Read Humane With Jill Shalvis' Animal Magnetism Series
Tue, 04/30/2013 - 10:43am — admin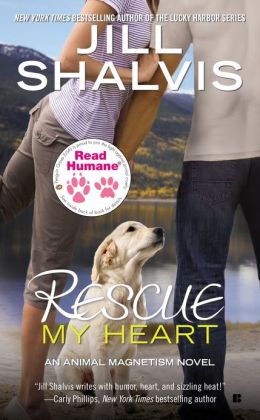 May is National Pet Month, and what better way to celebrate the critters in your life than with a romance? How about a sweet romance that helps put an end to animal cruelty? Penguin Publishing is helping make a difference by making a generous Humane Society donation tied to six of their pet-centric 2013 releases. You can be a part of this campaign by purchasing featured books including Jill Shalvis' latest Animal Magnetism novel, Rescue My Heart. We wanted to get to know the rescued pets of Shalvis' heartwarming series, and asked the author to tell us a little more about her furry characters from each book in the series.
***
Brady Miller doesn't start out with any pets at all. He's ex-military and has lost none of his skills. He's spent most of his adult life on the go as a pilot for hire. Then he lands in Sunshine, Idaho with his foster brothers and suddenly he has roots. One of these roots comes in the form of a little rug-rat, aka a deserted mutt named Twinkles. What made this so amusing for me to write was that Brady is this big, badass, and he ends up giving his heart to this tiny little yippy dog.
Lilah Young can't turn an animal away. She runs a pet kennel and also the local humane society. She has a lot of animals that she cares for daily, such as a lamb who thinks she's a puppy, a piglet who also thinks she's a puppy, a bitchy cat, and a duck with an eating disorder. Lilah's life is … full.
Dell Connelly has more animals around him than people. He's a veterinarian at Sunshine's Animal Center. He's got a horse named Kiwi who is a carrot 'ho, a St. Bernard named Gertie, and a parrot named Peanut who likes to swear. 
Jade Bennett doesn't have her own animals, she doesn't need them. She runs the animal center with the precision of a drill sergeant and yet has a heart softer than jelly. At any given moment, Peanut is perched on her printer repeating every naughty word Jade utters, and Gertie is snoring at her feet. 
Adam Connelly is a very tough S&R expert suffering from PTSD. People aren't really his thing, but animals are. He once stole a horse to rescue it from its abusive owner. He currently owns a horse named Reno and ten month old rescue lab named Milo who has separation anxieties and failed S&R doggie training.
Holly Reid takes care of her father's two golden retrievers, Thing One and Thing Two. They're six months old and rambunctious and drive her crazy, but she wouldn't trade them in for anything. Well, maybe she'd trade them in for two stuffed animals instead…
- Jill Shalvis
You can pick up Rescue My Heart, available now. And look for all of Penguin's Read Humane books, marked with a pink "Read Humane" paw print sticker on the cover. (For a full list of books, click here.) And for more sweet reads, both with and without furry friends, visit our Everything Romance Page.