Readers "Feel The Heat" With This Month's Erotica Anthology Featuring Firefighters
Wed, 06/08/2011 - 11:11am — admin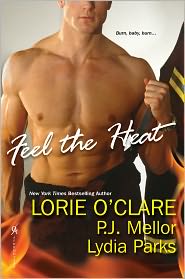 We challenge you to find a woman who doesn't love firefighters. There is something primal about the heroic nature of someone who will defy their survival instincts in order to rush into fires, not to mention these heroes' physical prowess (and those sexy calendars they come out with). But what actually makes these men and women so hot? Today authors Lorie O'Clare, P.J. Mellor and Lydia Parks chat about the many inspirations for the firefighters of their new erotic romance anthology Feel the Heat, three men who are definitely raising our blood temperature!
Lorie O'Clare says ...
Many of you may have gotten your impression of firefighters from the TV show Rescue Me, and hey, it's a great show. I have it on DVD. :) But after interviewing several firefighters from different houses, listening to their stories, and witnessing for myself the strength and powerful character traits all of them possess, there wasn't any doubt in my mind I wanted to write about this dangerous and action packed line of work.
Firefighters are hot. They are sexy. They are possessive, aggressive, and often not easy to tame or train. But they are also loyal, heavily committed to their jobs, the men and women they work with, and to their families. "Fight Fire With Fire" is about such a man and woman. Both leap into the heat, their passion and sexual cravings as hot as the fires they attack daily.
P.J. Mellor says ...
As a little girl, while the little boys were playing fireman, I had another dream in mind ... DATING a fireman! Yes, even as a child, I had "different" ideas.
Years later, as I fulfilled my lifelong dream of being a published romance author, I had a chance to live vicariously by participating in the first Kensington Aphrodisia firefighter anthology (The Firefighter) with my humorous romp, "All Fired Up". Naturally, I jumped at the chance to once again participate in their current anthology, Feel the Heat, with my novella "Heat Wave".
What if you felt the demise of your marriage was your ex's passion for surfing adding to his neglect of you? What if you found someone you thought you could love when you are rescued by a very hot, very handsome firefighter, only to find out he, too, has a passion for surfing? It's enough to make a girl think twice. Not only does Summer Wadsworth have to share her new love with the surf, she also has to contend with his continuous on-call status with his fire department. Add a beagle with a princess complex and a set of eighty-year-old triplets to the mix and sparks fly!
Lydia Parks says ...
Firefighters risk their lives to save others.  What could possibly be sexier than a good-looking hunk willing to walk through flames for you?
Besides being a decorated fireman, Lee Evans—the hero in "Smoldering Lust" —has carried a torch for Hannah Hayward all his life. After fourteen years apart, his desire is ready to burst into flames the moment he sees her, and she can't resist his fiery gazes and sizzling propositions.  
For me, the story was wonderfully fun to write. I hope readers will enjoy fanning the embers with Lee and Hannah. I'm thrilled to be part of Feel the Heat, and honored to write alongside Lorie O'Clare and P.J. Mellor. Feel the Heat should scorch a few pages!
Craving sexy stories about firefighters? You're in luck, Feel the Heat is in stores now!