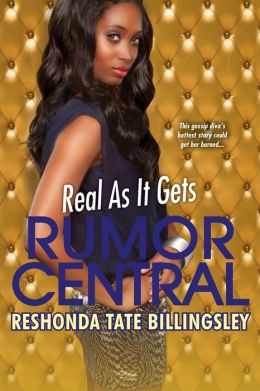 Being a teen is not easy, and thanks to peer pressure and more, some can turn to drugs for an escape. ReShonda Tate Billingsley tackles the teen drug scene in her latest book, Real As It Gets, presenting a gritty and truthful story about the dangers of drugs. Today, ReShonda talks about the inspiration behind the book and why she wanted to take on such a tough subject. Take it away, ReShonda!
As a TV news reporter and journalist, I come across all types of stories and it takes a lot to move me emotionally. But the story of 16-year-old Emily Bauer left me speechless. In December 2012, Bauer and her friends were experimenting with synthetic marijuana brands like Kush and Spice that the teens had purchased over the counter at a convenience store near Bauer's home. It's a decision that changed the course of the vivacious teen's life forever.
The next morning, Bauer was rushed to the hospital, the victim of a series of massive strokes. She eventually suffered extensive brain damage. She was disconnected from life support. Plans were being made to donate her organs if she died. She was blind, couldn't walk or feed herself. Miraculously, she survived. But her journey, and the fates of the hundreds of teens who weren't as lucky, inspired me to delve into this story.
The National Institute on Drug Abuse says about 11 percent of high school seniors report using synthetic marijuana. And calls about synthetic marijuana to the American Association of Poison Control Centers more than doubled between 2010 and 2011. (Later figures aren't available). During my research for Real As it Gets, I found teens don't realize the seriousness of the drugs because the products are sold in convenience stores as incense or potpourri in small packets and marked with the disclaimer "not for human consumption." The products look harmless and many teens see them as such. Lawmakers and municipalities have been struggling for years to outlaw the products and their ingredients.
I sifted through hundreds of testimonies from teens whose lives had been changed from synthetic drugs. Many of whom thought, 'this could never happen to me.'
It can.
As the mother of a teen and pre-teen, I know sometimes you have to go through the back door to reach our children. I hoped through fictionalizing a story about the dangers of buying, selling and consuming drugs, young people can see the dangers. Education is already working in terms of reducing the usage of synthetic drugs. In 2013, usage of synthetic marijuana had dropped to 7.9 percent. And the mixtures can no longer be obtained legally.
But the battle is far from over.
While synthetic drug use is dropping, regular marijuana use is on the rise. In 2013, 7 percent of 8th graders, 18 percent of 10th graders and 22.7 percent of 12th graders surveyed had used marijuana in the past month, up from 5.8 percent, 13.8 percent and 19.4 percent in 2008. Daily use has also increased; 6.5 percent of 12th graders now use marijuana every day, compared to 5 percent in the mid-2000s. Some blame the rise on a change in attitude. As perception of risks goes down, use goes up. Young people are showing less disapproval of marijuana use and decreased perception that marijuana is dangerous.
The written word can also lead to a shift in attitude. And that's what I hope to do with Real As it Gets. Maya's story is fictional, but the issues are very real and this simple FB inbox sums up that the message is being received: "Mrs. ReShonda, My friends tried to get me to use Kush the other day and I thought about your book, which I had just finished reading. So, I quickly told them, no thanks.' Just wanted you to know."
- ReShonda Tate Billingsley

To go inside this all-too-real dark world, be sure to pick up a copy of Real As It Gets today! And for more YA authors and books, visit our Everything Young Adult Page!

0

COMMENTS
SUBSCRIBE TO RSS FEED
EMAIL
PRINT
SHARE
PERMALINK