Rewind: Loretta Chase's Early Romances Are On E-Sale
Tue, 11/13/2012 - 12:55pm — admin
In 1987 Loretta Lynda Chekani, better known as Loretta Chase, published her first historical romance novel, Isabella. Twenty-five years later, the author is still creating unforgettable stories filled with love and laughter. With countless awards and over a dozen books on bestseller lists, Chase is romance royalty. However, until recently, some of her earlier works have been difficult to find. That is until the author started re-releasing her backlist in digital format. Currently, readers can purchase six of Loretta's earliest works each for under $3. Today we are comparing these earlier works to the author's more recent releases to find which story you might want to begin your Great Loretta Chase Re-Read!
***
Do you love the mature heroine from Chase's 2004 novel Miss Wonderful? Then we suggest you begin at the beginning and pick up Loretta's debut novel Isabella. Marriage doesn't seem to be in the cards for 26-year-old Isabella Latham, but this is before she travels to London and has her pick of suitors ... some of whom seem more interested in Isabella's bank account than they are the woman who owns it.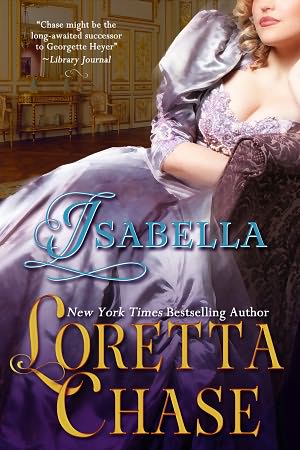 Purchase for $2.99 from Amazon or Barnes & Noble
An independent woman? Check. An irresistible hero? Double check. Exotic locales? Triple check. There are a lot of similarities between the 2005 novel Mr. Impossible and the earlier release The English Witch. But the best similarity of them all has got to be Chase's wickedly clever writing!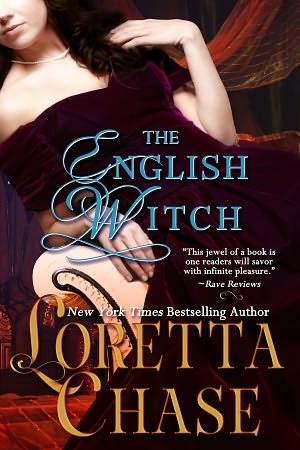 Purchase for $2.99 from Amazon or Barnes & Noble
And you thought your family had issues ... We can pretty much guarantee you that your crazy uncle and quirky aunt have nothing on the DeLucey family from Lord Perfect. Known for being liars and thieves, heroine Bathsheba can never live down her family's reputation. And neither can Delilah Desmond in The Devil' Delilah overcome the scandal when her father, an infamous rogue, completes his memoirs. With her dad's bad reputation made public, what's a girl to do? Perhaps a shyly handsome, openhearted bookworm who doesn't care for society's rules has the answers.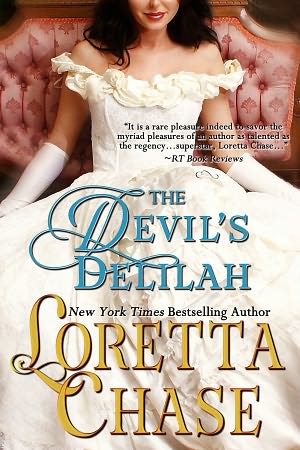 Purchase for $2.99 from Amazon or Barnes & Noble
Government mission aside, it doesn't bode well for a couple to begin their relationship with the hero stealing from the heroine. But this is exactly how the romance begins in both Your Scandalous Ways and The Sandalwood Princess. In these Chase novels, it is forgiveness that is the order of the day! 
Purchase for $2.99 from Amazon or Barnes & Noble
For women in the Regency era, propriety was paramount. After all, it was nearly impossible to make a good match without at least the appearance of virtue. So it is no wonder that the heroines in Chase's Not Quite A Lady and Knaves' Wager are both determined to keep their reputations in check — at any cost!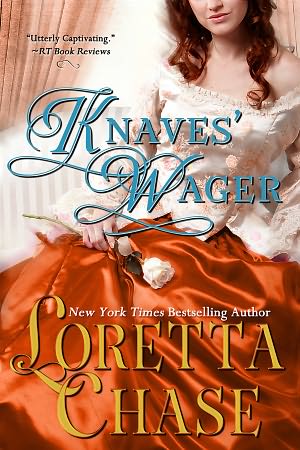 Purchase for $2.99 from Amazon or Barnes & Noble
Has there ever been, could there ever be, a more notorious rake than Sebastian Ballister from Lord of Scoundrels? Perhaps, perhaps not. But if there were a Chase hero that might take the title from Seb, it would be Lord Browdie from the 1989 book Viscount Vegabond.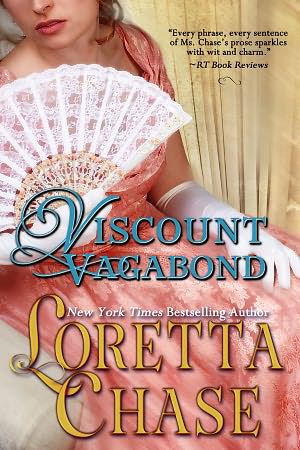 Purchase for $2.99 from Amazon or Barnes & Noble
Intrigued by these oldie, but goodie reads? We want to know which early Loretta Chase novel you've got your eye on. And for information about more Regency romps, make sure to check out RT's Everything Romance Page.