Rhyannon Byrd On How To Seduce A Detective ... And Make Him Work For It!
Fri, 06/14/2013 - 12:12pm — admin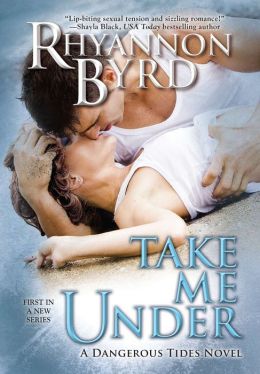 You gotta love an erotic romance hero with a dangerous job — FBI agent, undercover cop, special ops agent — nothing says sexy like a man willing to take a risk. But what about a man who refuses to take a risk with his heart? In Rhyannon Byrd's latest release, Take Me Under, the last thing on homicide detective Ben's mind is commitment, so how does heroine Reese win him over? Today the author shares how Reese — and you — can seduce a detective in 5 easy steps!
I love to write heroes who are rough, rugged, and as alpha as they come, and former Miami homicide detective Ben Hudson is one of my all-time favorites. Ben is the hero in my newest release, Take Me Under, and at the start of the book a relationship is the LAST thing he's looking for. He's smart, sexy, and seen as a genuinely great guy by his family and friends. But...and this is a BIG one: this guy would rather fall out of a plane or lose a kidney than fall in love.
Given that Ben is one of the most commitment-phobic heroes I've ever written, you're probably wondering how Reese Monroe, a shy divorcee who has just moved in next door to Ben, manages to steal this bad boy lawman's heart. The answer is in 5 easy steps ...
MAKE HIM LAUGH
She might be shy, but Reese isn't afraid to be herself with Ben. She often teases him, playfully giving him a hard time, and it's a refreshing change for a guy who's used to women who are only looking to score. But Reese is both genuine and fun-loving, and it makes her stand out for Ben in a way that no other woman ever has.
SHOW HIM YOU UNDERSTAND 
Now that Ben is working as the county sheriff, his job is just as demanding as when he worked as a detective, if not more so. When he gets called away for emergencies, Reese never gives him a hard time about it because she knows that what he's doing is important. Instead, she gives him her full support and understanding.
MAKE HIM WORK FOR IT
Women have always come easy for Ben ... and he's always walked away from them just as easily. But Reese is different. Not only has Ben had to wait three long years for her to lose her jerk of a husband, but when she finally moves to his hometown and Ben makes his interest in her clear, she doesn't just fall into bed with him. And even after they sleep together for the first time, Reese doesn't cling to the sexy sheriff, trying to force herself into his life. Instead, she makes him come to her.
BE STRONG
Ben might have an incredibly dominant personality, but Reese isn't afraid to stand up to him. Even when they argue, she holds her ground and stands firm by what she feels and believes. Ben isn't the kind of man who would ever want to tie his life to a weak woman, and Reese shows him that she's more than capable of holding her own against him.
LET HIM KNOW YOU SEE DEEPER THAN HIS GOOD LOOKS
I think this is one of the most key points of Ben's fall into love. One of my favorite parts of the book is during a scene where Ben is sitting in his office at the sheriff's station, thinking back over the incredible night he's just shared with Reese. Yeah, the sex was the absolute best he's ever had, but he also can't stop thinking about how she seems to simply "enjoy" being with him, even when they aren't blowing each other's minds with pleasure. Reese likes his sense of humor and listens with interest to the things that he says, and it lets him know that she wants him for more than just the screaming orgasms he can give her. (Not that the, um, orgasms aren't really appreciated.)  ;)
So while Ben might start out thinking his desire for Reese is something he simply needs to work out of his system, it doesn't take long for her to have this bad boy alpha wrapped around her little finger ... and wanting nothing less than a long, breathtaking forever.
- Rhyannon Byrd
You can pick up a copy of Take Me Under, available now! For more irresistible heroes, visit our Everything Erotica Page.