Rie Warren On How Fanfiction Got Her Into Writing M/M Romance
Tue, 08/06/2013 - 11:44am — admin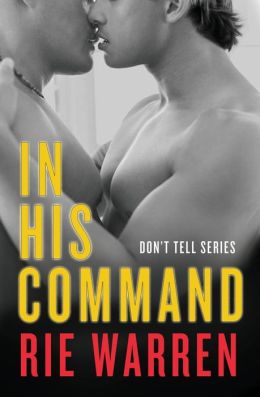 Today marks two big firsts: author Rie Warren's first male/male romance, and publishing imprint Forever's first male/male romance! We're all about spreading the love, and to celebrate this leap for both author and publisher, Rie Warren is here to share how she got started writing M/M romance (Hint: it involves sparkly vampires) and tells us a bit about In His Command, the first in her dystopian Don't Tell trilogy, in which two men exist in a society that forbids homosexual relations who must fight to escape their dangerous, oppressive government.
I don't think I've ever taken the logical route in my life, always seeming to get from point A to point B along a twisty path that has led me to some very interesting places. How I started writing gay romance is certainly an amusing example of jumping headlong off the beaten path.
Like thousands of others, possibly millions, my writing career got a kick in the pants when I read the Twilight series. I know, I know, you've definitely heard that line before. But don't worry, I always shake things up. Apart from the semi-typical 'had dreams of being a writer in my twenties, got a paying job instead, married, children and a decade later I read this book about teen vampires and boom, I desperately needed more!' syndrome. At the time I wrote my first piece of fanfiction—a oneshot — I had never even heard of this little online community called fanfiction.net. I just knew I needed Edward and Bella to have them some hot sex. And since that wasn't in the novels, I was gonna write it myself.
I was pretty damn amazed when an online buddy told me about fanfiction.net, and that the Twilight fandom was blazing up the Internet. All free stories and instant gratification for the writer? I had to get in on that action. Nearly five years ago, I set myself up on fanfiction.net, posted my first story, and it all snowballed from there. Of course I had no clue what a lemon was, what AU meant, or even what a Beta was. I spent a lot of time giggling with my girlfriend on the phone while we tried to figure this wild new world out. I devoured stories until my vision blurred, churned out my own, mostly sticking to canon when I chanced upon something very, very non-canon: Twilight slash. Male Twilight characters going at it.
My immediate reaction? What? No! You can't make Edward and Jasper do that! We're talking Edsper, Emmsper, Edmett, for those who know the lingo. But I kept reading, because I'll try anything once, twice … three times — kind of like the characters themselves — and I really started liking. And then thinking: Oh hell yeah, you can!
Because writing fanfiction is a chance to try out absolutely anything with no fear, I decided to go right on ahead and take the leap into the slash side of things. I wrote several m/m stories over the years, playing around with all the pairings, generally sticking to the vampire (instead of All Human) world, and that added a whole new level of fun.
Eventually I finished up my Twilight writing days, completed my first contemporary romance novel Sugar Daddy and decided it was time to stir the pot a little. Gay male romance was starting to sizzle, dystopian was already on fire, and since I love both genres I tossed the two together. I shook in some extremely high stakes, political unrest, and best of all, two totally rugged male characters who can't keep their hands off each other. Out came the Don't Tell series, starting with In His Command and the sexy duo of Commander Caspar Cannon and Nathaniel 'Blondie' Rice. And the best part is, this book and these two men are just the beginning. You don't even want to get me started on Darke and Leon, or Liz and Linc….
- Rie Warren
You can pick up a copy of In His Command, available digitally and in print today! For more steamy love stories, visit our Everything Erotica Page.