Robin York Takes New Adult Deeper
Fri, 02/07/2014 - 11:36am — admin
"Don't read the comments." It's an Internet mantra for a reason. Yet today we've got contemporary breakout star Ruthie Knox, who's making her New Adult debut as Robin York, to tell us about how reading the comments led to write Deeper, a raw and beautiful winner. We wanted to know more. Here's what she had to say!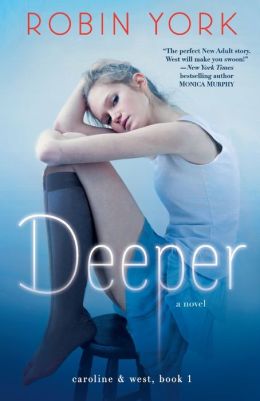 Some of my most vivid memories are from the period of my life when I was between 17 and 23.
I remember relationship dramas, friendship dramas, moving, loneliness, trying things, getting confused, getting unhappy, getting well, discovering exercise, discovering alcohol, discovering guilt sex, making lifelong friends.
How could so many things have happened to me in such a short period of time? It defies credibility, but that's new adulthood for you. Incredible. Defiant. Unbelievable, in retrospect, that we should ever have been so stupid, or gone through so much in such a short period of time.
New Adult novels dig into the intensity of this stage of life — a stage when many of us are living on our own for the first time and negotiating the shift from protected adolescence into independent adulthood. The stories that New Adult novels tell are unapologetically emotional, focusing on struggle and triumph, love and life.
I moved into writing New Adult because I'm drawn to the idea of writing romance that can be so raw — so open to characters who err, who learn, who grow wiser as they grow toward each other. But it wasn't until after I'd agreed to try it out that I found the story I wanted to tell while reading an article about revenge porn.
If you're not familiar with it, revenge porn involves sharing sexually explicit media online without the consent of the person pictured. Stereotypically, it's an act carried out by angry ex-boyfriends, who post their former lovers' sex pictures for the world to see.
It wasn't the revenge porn article itself that caught my attention that day. It was the comments.
Oh, those comments. Those vicious, slut-shaming, victim-blaming, hurtful comments. She should have known better. She shouldn't have trusted him. If she didn't want this to happen, then she should never have taken off her clothes, should she? My daughter would never do something so stupid. I would never do anything so stupid.
Those comments made me angry. They made me seethe. 
They also gave me Caroline Piasecki.
Caroline, the heroine of my New Adult novel Deeper, is a girl who's always tried to follow the rules. She's smart, she's ambitious, and she's accommodating — Midwestern to her core. When she breaks up with her boyfriend, it's amicable ... or so she thinks until she discovers that he's posted their private pictures online, along with her name, her location and the address of her Facebook page. 
Just like that, the solid ground of her life cracks open.
Caroline's story is a modern one — a common one — and an unapologetically New Adult one. Here's a young woman who's still finding her feet as an independent adult, suddenly subjected to vituperative judgment from every corner.
Here's a young woman who has to figure out how she feels about what happened to her — whose fault it was — what mistake she made exactly — and where she's going to place the blame.
Here's a young woman who has to decide, in a very real and urgent way, how it is that she will navigate her own future, her own adulthood.
And here, too, is a young woman who's falling in love with a guy who seems all wrong for her, at exactly the wrong time ... except that he's also a good friend and the one person who validates and supports her as she picks her way through the minefield of her own life.
It's a turbulent, dark, angsty, sexual, complicated, difficult, transcendent, ecstatic, beautiful story ... just like new adulthood itself. 
-Robin York
Deeper is available now, so be sure to pick up a copy. This is one book you won't want to miss. And for more New Adult authors and stories, visit our Everything Young Adult Page!