Robyn Carr Finds A New Home In Thunder Point
Wed, 03/27/2013 - 1:42pm — admin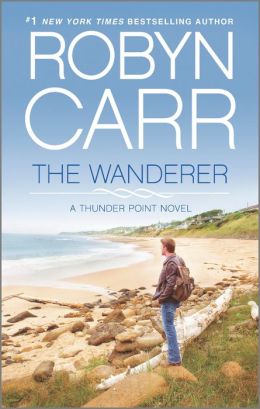 Robyn Carr's contemporary Virgin River series started as a trilogy. But then readers fell in love with the small town populated with big personalities and fans eagerly followed Carr around Virgin River (stopping often at Jack's Bar) for 20 books! This week Carr is headed to a new town — Thunder Point. Book one of this new series, The Wanderer, has all the hallmarks of a great Carr novel including a conflicted hero, complicated heroine and a rugged landscape that calls to the heart. But before you follow the "The Wanderer" (aka Hank Cooper) on his journey, take a moment to read about how Robyn Carr found her way to becoming a bestselling author.  
I've read a lot of author interviews and bios. All published and unpublished authors have. We're crazy hungry to know what the others did and how they did it. A great many that I've read claimed to have been writing stories almost since birth, but not me. Oh, I had a flirtation with writing when I was thirteen — I got a clean, fresh, new notebook and a very cool pen and I wrote my new name on the front page. Tammy Haynes. I still remember it. Not one sentence followed so I suspect it had more to do with not liking the name I was living with than a desire to tell stories.  
Then when I was a young wife, a very young wife, and had been reading a lot of magazines, filling up on the humor and wisdom of writers like Judith Voirst, I got another new, pristine notebook and a cooler pen and started writing about my life.  It was dreadful, boring dreck. I suspect that was more about wanting to be a writer than about having something to say.  
But there were episodes that were turning points in my young life. Like the time my grandmother visited me right after my first child was born. We were doing dishes together and she casually said, "Your grandfather's real name isn't Robert, you know."  
"Hm," I said. "And what is it?" 
"Well, his real first name is Leonard. He's not a Crandall, either." 
"Huh? Wait a minute…." 
"Didn't you know that?" she asked. Again, so casual.  
"Um, no. When did you find out this little tidbit?" 
"Well," she thoughtfully remembered. "I was pregnant with our fourth and he said, 'My name isn't really Robert Crandall.'"  
"Well, holy crap! And what did you say?" 
She gave me the most pleasant smile. "I asked, Who are you please?"  
I felt a slight shift. It was a little tickle, really. And we spent a lot of her visit on the family stories that had become almost legend. When my grandmother was a teenager, she slept each night with her dying mother while her father took an upstairs bedroom and on that fateful morning that awakened to find her mother had passed, my grandmother told her father, prepared the body and sent for the preacher. My kids, on the other hand, felt punished if their curfew was earlier than 2 a.m. I found out my puritanical grandmother had been a flapper. She and her cousin picked up my grandfather and another soldier by the side of the road and … gulp … married them. That night!  
I doubt that story was the actual beginning of my lust for stories, but it's certainly an example of what can fascinate me. I wanted to know everything! And from just about that moment on I have asked myself questions about every fictional character I've met — what is their history, their backstory? What demons do they wrestle? What do they hope for? Are they grim or funny or intellectual or kind of dimwitted? What are they up against? Who are they up against. And most of all, who do they desire beyond their wildest imaginings?  
I knew Hank Cooper was going to Thunder Point long before he left Virgin River. I began thinking about him three books ahead of his debut — he'd had pretty lousy luck with women. He'd been very solitary and had accepted that as his destiny. But as anyone knows, once you turn left instead of right, unimaginable miracles occur. Sometimes just when you've given up, the right woman stumbles into your arms. It occasionally happens that you just mean to do the right thing and you find the home that's been waiting for you for a long time, the place you fit. Belong.  
There were a lot of people to conjure and I'll be the first to admit, my workdays tend to find my mind wandering to cool places. I can also admit — I came to love Cooper. It was his turn to find The Real Thing. And I suspect his wandering days are over.  
And for a little while, so are mine. I found a new home and it's everything I hoped it would be — a sexy and rugged place on the Oregon coast where people fall in love, endure broken hearts, rely on their best friends and put down roots. I've packed up my dreams and am building there. Come along with me. You're going to love it. 
- Robyn Carr
Read an excerpt from The Wanderer here. This series starter is available in bookstores and online now. And for more great contemporary reads, check out our Everything Romance Page!