Rolling In The Deep (South): Why Southern-Set Paranormal Tales Are Hot
Tue, 08/13/2013 - 11:41am — admin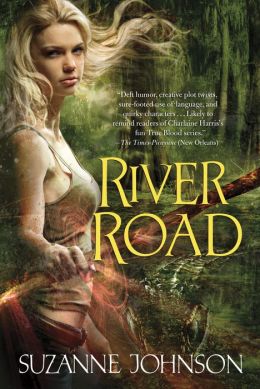 While we're busy planning the 2014 RT Convention in New Orleans, we can't help but think of how the The South has long been a backdrop paranormal readers love to visit. Is it the sweltering heat — literally and metaphorically — that readers love, or the otherworldliness of the natural surroundings? To get to the bottom of this deep fascination for the Deep South, we asked paranormal fantasy authors Suzanne Johnson, Faith Hunter and A.J. Larrieu why they chose to set their books in the South, and how this setting affects their stories.
For Johnson, setting her paranormal fantasy series Sentinels of New Orleans — the third of which, Elysian Fields, releases this month — in the South was a no brainer. She says, " … I've always lived in the South … I was in New Orleans before and after Hurricane Katrina, and that experience was the catalyst for me to start writing fiction." In addition to drawing on local tradition to create her mermen and werewolves, she also includes historical figures like pirate Jean Lafittle and voodoo queen Marie Laveaux in her tales. "I am passionate about New Orleans and South Louisiana, so I infuse as much of that culture into the books as I can," she says. "The series couldn't take place anywhere else," because the history and culture "are so deeply ingrained in the story, the setting and the characters".
Hunter drew on her own personal experiences with New Orleans to bring her Jane Yellowrock series to life. A proud "born-and-bred Southerner" she says that "to make the settings real to the reader, [Jane's] series is set in the Southeast USA, in places I love, where I have lived, visited and return to all the time." Hunter loves what the Southeast offers, and has used aspects like the "rivers … pockets of old-world culture … Cajuns and socialites" to bring realism and believable eccentricities to her characters. These cultural elements also provide conflicts with "real historical, ethnic and regional significance." Hunter's latest Jane Yellowrock novel, Blood Trade, is available now.
Like these other authors, A.J. Larrieu is no stranger to the South. And as that old adage goes, she's writing what she knows, as her recent novella, "Anchored," is set in Biloxi, while her upcoming novel Questionable Miracles is based in New Orleans. To get the most out of these settings, Larrieu knew it was important to draw on both the beauty and darkness of Southern culture. She says, "The South is celebrated for its distinctive culture, but like any region with history and personality, you can't write about its good side without also grappling with its bone-deep problems." She adds that the exploration and inclusion of both the good and the bad is "key to writing authentic Southern stories," and that it's about "showing the way a character is intimately linked to a complicated setting." Larrieu follows through on this in Anchored, in which certain humans can anchor to their birthplaces in order to receive super powers. Their power is tied to the strength of their city, and to Larrieu, "this is a metaphor for the potent ties Southerners have to their roots."
And the Southern supernatural adventure doesn't stop there! Here are a few more Deep South paranormal series we recommend:
-The Elemental Assassins series by Jennifer Estep (Book 1: Spider's Bite), set in the fictional Southern metropolis of Ashland
-The Kara Gillian series by Diana Rowland (Book 1: Mark of the Demon), set in the fictional town of Beaulac, Louisiana
-The Kate Daniels series by Ilona Andrews (Book 1: Magic Bites), set in Atlanta
Are you as transfixed with the South as we are, now that you've heard about these rich settings? Then be sure to pick up books by these authors, in stores or online today. If you're joining us in New Orleans for RT '14, authors Suzanne Johnson, A.J. Larrieu, Jaye Wells, Diana Rowland, Ilona Andrews and will be holding specialty a panel called "Southern Urban Fantasy: It's More Than Just Geography," (Note: panelists subject to change) not to mention three other Southern-centric panels and reader events we have planned! For more intriguing paranormal reads, check out our Everything Paranormal Page.