Romance Author Beverly Jenkins Interviews Sandman Slim Creator Richard Kadrey
Tue, 09/18/2012 - 10:40am — admin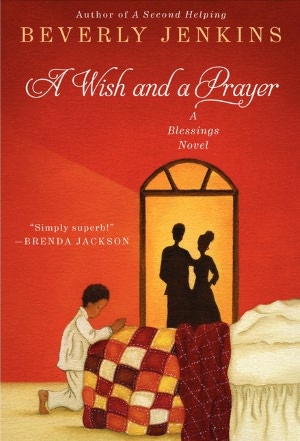 We love it when authors remind us that they're readers, too. When romance author Beverly Jenkins confessed that she was a huge fan of urban fantasy writer Richard Kadrey — author of the Sandman Slim series — we were more than a little surprised. Said Jenkins of Kadrey: "I didn't think anyone could replace Jim Butcher's Harry Dresden at the top of my hit parade but Stark is bearing down on Harry like a semi rolling at 80!" We asked Jenkins if she'd like to interview Kadrey, and based on this thoughtful, hilarious interview, she is definitely a fan!
***
Beverly Jenkins: In looking at your bio, you come off as a twenty-first century renaissance man. You're an award winning writer, artist, photographer, lecturer, a "degrader of perfection" according to one interview, and you've been immortalized as an action figure. You've bellied up to enough cultural bars for four or five people. How would you describe yourself?
Richard Kadrey: I'm willing to suck at things. I'm always interested in new ideas and tasks and that means being lousy at them for a while. Some obsessions will stay with me—like photography—and others will some and go—like playing music. Music was easy to give up. I sucked at that non-stop. Still, I like to do sound experiments. Recording ambient sounds and stretching and slowing them. Playing them backwards, etc.
BJ: Is there a common thread in your work?
RK: I'm always interested in people on the outside looking in. Outsiders who don't have a foot in the door and probably never will. I've never been an inside person myself. Life on the inside is too cozy and settled. Things are more interesting at the edges where different worlds collide and spark off each other.
BJ: Tell me a little bit about James Stark the anti-hero of the Sandman Slim saga. How long has the character been with you and how did he make himself known?
RK: Sandman Slim came from two lines in my notebooks. One was: Hitman from Hell. The other was: Character's name: Sandman Slim. The two seemed to go together so I began asking questions about who he is and what kind of world he lived in. The whole series came from those notes and my internal Q&A.
BJ: Is Stark writing the series or are you?
RK: It's a collaboration but I get two votes and Stark only gets one.
BJ: What's your writing process like? Are you a pantser? Plotter? Do you prefer a certain time of the day? Do you snack on fried drytt eggs, while sipping Aqua Regis and chain-smoking Maledictions?
RK: I like to work at night. Always with music on and sometimes with a movie on one of the monitors with the sound turned down. It's always something visually stimulating. Tarkovsky's Stalker or Lars Von Trier's The Element of Crime, for instance. I outline thoroughly before I start but I give myself the freedom to change things if there's a better direction for the story. Then I re-outline and repeat the process. Sometimes I work by hand on legal pads. This is a nice method because as I transcribe things to the computer it gives me an instant second draft. I don't smoke anymore and sometimes I find myself holding pens and other objects between my fingers the way I used to hold cigarettes.
BJ: What was Richard Kadrey like in high school?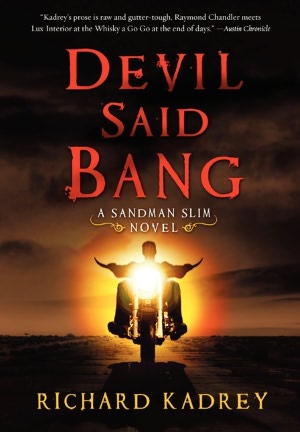 RK: Invisible in school. I got a job on the school newspaper so I spent most of my time in the journalism lab. When I wasn't in school I studied martial arts and played music. I also hung around in the "bad" parts of town when I could. All night diners with dealers, cops, pimps and prostitutes. It opened to my eyes to a world beyond the cozy suburbs where we lived in Houston. It taught me how to bullshit people and how come up with a good cover story when I needed one, all good skills for a writer.
BJ: The various references in the Sandman Slim series are as numerous as the names listed in the Book of Genesis. You have everything from Milton's Paradise Lost to Dante's Inferno, to popular music, to Anime, to Greek philosophers, to the various weapons Stark carries and loves like his precious na'at — just to mention a few. Do you enjoy the research? What was one of the more surprising items you ran across?
RK: I love research and like most writers I have to force myself to stop at a certain point or I'd never write the damned book the research is for. What surprised me the most in my research is how fertile the human imagination is when it comes to describing and making sense of the universe. And how determined people in power are to crush that imagination or bend it to their own uses. The Roman Church has been dining out on Lucifer and Hell for 2000 years and will probably ride that pitchfork gravy train for another 2000.
BJ: We know what type of music Stark enjoys, but what do you listen to when you're chilling away from zombies, talking heads and the war between Heaven and Hell?
RK: Nick Cave and Tom Waits' songs are mentioned in the books and they're two of my favorite singer/songwriters. I also enjoy dark ambient musicians such as Lustmord. I still listen to some old school punk, along with garage compilations such as the Nuggets sets. I'm also a fan of 60s-era French girl pop through the Ultra Chicks and Pop A Paris collections. And, of course, "lounge" performers such as Martin Denny and Arthur Lyman.
BJ: Who do you read?
RK: That depends on when you ask me. I always find myself going back to Cormac McCarthy, especially Blood Meridian. J.G. Ballard is another writer whose works are fundamental to my writing. Recently I read Lauren Beukes' Zoo City, Nick Harkaway's Gone Away World, the new edition of Gaiman's American Gods, and I reread Fight Club, which I thought held up very well.
Beverly Jenkins: What's better — being an action figure or a mass market fiction hero?
Richard Kadrey: Anyone can write a book. Not everyone gets to have purple muscles and a glow-in-the-dark bazooka.
Beverly Jenkins' latest full-length novel A Wish and A Prayer is available in stores now. And the latest Sandman Slim novel, Devil Said Bang, is also available. For more from your favorite authors visit the RT Daily Blog.