Romance Authors Share Their New Year's Resolutions
Tue, 01/08/2013 - 12:25pm — admin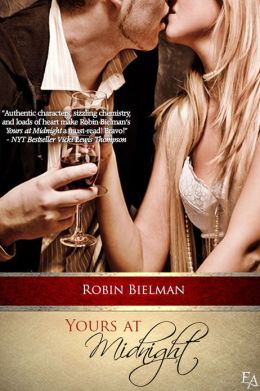 With the New Year comes fresh opportunities, chances to start over. And we know we aren't the only ones gearing up for a great 2013. Today, author Robin Bielman shares not only her own goals for the new year, but she's also gathered resolutions from some of her fellow romance authors!
My latest novella from Entangled Publishing, "Yours At Midnight," just released and my heroine's resolution to find a man opens the book.
I'm just going to come right out and say it — I don't make resolutions anymore. Why? Because I'm terrible at keeping them! Eat healthier? Okay. Until I see a cupcake. I cannot hurt any cupcake's feelings. Exercise more? Sure. I want to. I really want to. But I have to do laundry and I have to pick up my son from school, and I want to get a few words written on my current manuscript, and my dog Harry wants to play, and oh look at the clock — it's dinner time.
Now, I don't mean to make light of resolutions. I think they're a great idea. So after some debate, I've decided that this year I'm putting my resolutionphobia to rest and making a list of things that I know I can do. Things that are doable and will make me (and hopefully others) feel good.
I call it my Resolution List:
Smile at strangers.
Laugh more often.
Tell my husband every day how much I love and appreciate him.
Tell my kids every day how much I love them, then remind them the floor is not a laundry basket.
Say the word 'thingie majiggie' more often because 1) it's fun to say and 2) it leads to a conversation about what thingie majiggie? And in this age of texting and emailing, talking is good.
Write … a love note to my hubby, a lunch note to my kids, words to my latest story, thanks to a friend. Write something every day.
Travel to new places. It could be a new movie theater. A new restaurant. A new park. A new vacation spot.
Occasionally wear something besides my sweats. (This is going to be my hardest one.)
Have more date nights with my hubby. Better yet, surprise him with a date night and wear a dress!
Breathe. Stop being in a rush. Live in the moment.
BONUS: Read more. I have a friend who reads every day for one hour and feels so much better for doing so. I want to do that, too. I want to spend time with my favorite authors. (If I can read while eating a cupcake, all the better.)
My resolutions are just one of many, though, so I decided to ask some other Entangled authors to share their New Year's resolutions. I love having resolution company. Thanks to Hope, Victoria, Karen, Robin and Natalie for sharing their resolutions with me!
For 2013, I am resolving to s-l-o-w it all a bit, focus on 3-5 top priorities both personal and professional and scale down everything else. - Hope Tarr, Operation Cinderella
My New Year's Resolution: To worry less about things I cannot control. - Victoria James, The Billionaire's Christmas Baby
My resolutions for 2013 are to read more, stress less (easier said than done!), simplify my life a bit and spend more time with my family. Pretty simple--that way hopefully I won't fail. *winks* - Karen Erickson, Jane's Gift
My resolution for 2013 is to stretch my writing skillset into developing a single title series and to complete all 90 days of P90X (I made it to Day 60 last year!) - Robin Covington, Secret Santa Baby
For 2013, I'm going to be striving for more balance between my writing, family, and work by having a big-picture perspective instead of just taking things as they come whenever possible. - Natalie Damschroder, If You Believe in Me
I think as a whole, we've got some great resolutions worth aiming for. I wonder what some of our favorite fictional characters might have on their resolution list. Hmm …
Happy New Year!
- Robin Bielman
What are some of your New Year's resolutions? Share them with us in the comments! And don't forget to download Robin Bielman's latest story, "Yours At Midnight," available from online retailers now. For more love stories check out our Everything Romance Page!