Romance Cover Model CJ Hollenbach Confesses
Mon, 12/23/2013 - 11:47am — admin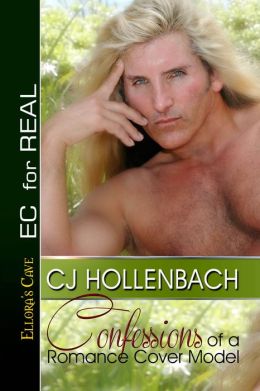 If you've ever been to an RT convention, you definitely know CJ Hollenbach. He's one of the most well-known romance novel cover models from the last two decades, and now he's finally coming clean with his own book, Confessions of a Romance Cover Model, where he dishes about the industry and shares more than a few wild adventures he's had during his career. If you were at the 2013 RT Convention in Kansas City, you might recall the roast of CJ, which was certainly a sight to see. Today, we're asking CJ about his career, what he's learned and giving readers a preview of the stories they can find in his new book.
***

1. What is your fondest memory from working as a cover model?
There are so many great memories over the past 20 years, but the one that sticks in my mind most is doing my first cover for The Stone Maiden [by Susan King] in NYC. It took me eight years of very hard work to achieve my goal. Sending out photos, making phone calls and networking my brains out finally paid off for me. It was everything I thought it would be. I had a great photographer, a kilt and a huge sword ... not to mention two huge fans to blow my hair around. They had to be huge for all my hair! When I left the photo studio and was walking down the street in the city a woman stopped me. She said "You know, you look like one of those guys on the cover of a romance novel!" After eight years I could proudly answer "I AM one of those guys!" I will never forget it. Such a feeling of accomplishment.
CJ on the cover of The Stone Maiden
2. If you could go back and give your aspiring model self advice, what would it be?
I would say "Watch your back, CJ!" Not everybody is looking out for your best interest. I have been slaughtered in the press countless times. Male reporters tend to make fun of what they don't understand. I used to be a little naive about some people's intentions too. There are people out there who have no problem stepping on you to get where they want to be. Funny thing is, I'm still here and they aren't. I've developed a very thick skin over the years — and I've kept it moisturized!
3. We have to ask, because we know you have a few, tell us a wild story from working in the industry!
A few? I have MANY! Read the book! I did a photo shoot many years ago in Los Angeles on the beach. The girl with me was topless and I had to use my hands to cover her breasts in the shot. All of a sudden a wave came up and threw me 20 feet down the beach. I remember spitting out sand for an hour. She may have been washed out to sea ... I also did a photo shoot with a girl in bedroom shot. She was lying on top of me and was just dead weight. I literally could not breath. She asked me very sweetly "Am I too heavy for you?" Of course, I said "Oh, no ... " What was I going to say? "Honey, you're killin' me!" I was praying they would get the shot before I lost consciousness, which I almost did! They did get it and it turned out to be a very hot cover. All in a day's work ...
CJ's book is available on Wednesday at your favorite e-tailer. Congrats, CJ! For more love stories to get you through the holidays, visit our Everything Romance page!