RT Booklovers Convention 2013: Beyond Giggles and Screams
Wed, 05/01/2013 - 2:56pm — admin
The paranormal genre has come a long way, baby! Gone are the days of easily recognizable monsters like Dracula, Frankenstein and Mr. Hyde. The dark creatures of the night have morphed into sexy, dark creatures capable of love. And some authors have even dared to replace the fear factor with humor. In today's panel at the RT Booklovers Convention, "Beyond Giggles and Screams", five bestselling authors discussed where their work falls into the paranormal spectrum and how aspiring authors can infuse their stories wtih thrills, chills or laughter — or maybe all three! 
(left to right) Authors Pamela Palmer, Karina Cooper, Angie Fox, Kerrelyn Sparks and Alyssa Day
MAKE 'EM LAUGH
First up are the giggle-inducing authors — we're talkin' the comedy of Angie Fox and Kerrelyn Sparks, two ladies who strike the perfect balance between freaky happenings and humor. 
Kerrelyn Sparks' Love at Stake series is devoted to the lighter side of vampires (and perhaps a shifter or two). Charismatic, sexy vamps defending their chosen ladies from danger could veer into horror, but Kerrelyn keeps her stories light by including humorous conflicts. She has been making readers laugh ever since her series starter How to Marry a Millionaire Vampire where her debonair vampire loses a fang and is in danger of becoming a "lopsided" eater for all eternity.
An author who always gets Sparks laughing is fellow panel member Angie Fox. Angie's been a force in the paranormal scene since first publishing The Accidental Demon Slayer in 2008. One of the things fans can rely on are some unexpected curve balls in the author's work. Angie says book one of the Accidentally series is fun because it allows readers to "dive into a world of biker witches, talking dogs and a brand new demon slayer who isn't quite sure what what she's doing." See what we said about the unexpected? And Angie's most recent series, Monster MASH, has lots of surprises, too. For example, in the opening scene of Immortally Embraced, the doctor heroine gets to tell the all-powerful Medusa that a gorgon is pregnant.
Takeaways: Give readers something to giggle about by putting characters into bizarre and absurd situations. And always, always include surprises!
***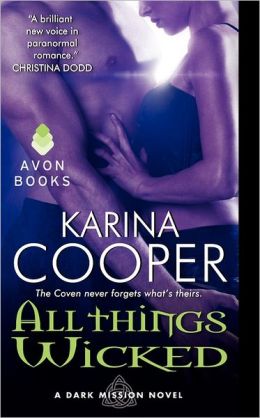 NO REST FOR THE WICKEDLY SCARY
Author Karina Cooper definitely writes some seriously frightening fare (but don't go by her Twitter convos, those are hilarious). But when it comes to the words on the page, it doesn't seem like anything is off limit to this lady. She says, "I don't shy away from the (dare I say it) 'realities' of a harsh world. Murder, persecution, conspiracy, and betrayal are common occurrences in the Dark Mission world." And it is the author's willingness to 'go there' that ratchets up the gritty ambience and keeps readers on their toes. 
What makes Karina's books so memorable is the fact that even the most heinous, brutal acts are redeemable, or at least understandable. For example, book one in the Dark Mission series, Blood of the Wicked, details a ritual sacrifice. And in a twist, the villain of this tale morphs into the hero of the third book in the series All Things Wicked. 
Looking for other authors that 'go there'? Karina recommends Karen Marie Moning's Fever series because these books don't "shy from the gory aspects of many a Fae legend." Also on her list is the Kate Daniels series by Ilona Andrews, and books by Stephen Blakmoore and Chuck Wendig.
Another author to add to this list is Karina's panel-mate Pamela Palmer. Pamela makes readers spine tingle with fear. In order to keep her fans up late at night, this author starts with a truly terrifying setting called Vamp City. The author describes her town as a "vampire otherworld where the sun never shines and where humans are brought in as slaves, food, and prey." 
Readers can return to Vamp City this summer when A Kiss of Blood has vampire hero Arturo and his heroine Quinn fight for their lives against werewolves. In the meantime, make sure to read the series starter A Blood Seduction and the author also suggests checking out the complex worlds crafted by paranormal authors JR Ward, Nalini Singh and Larissa Ione.
Takeaways: Strike fear into the hearts of your readers by crafting a terrifying setting. And don't be afraid to push boundaries.  
***
FOR THE INBETWEENERS
Can giggles and screams exist within the same novel? Of course they can! Just ask author Alyssa Day. She considers her stories "paranormal action romance thrillers with a lot of black humor." That's a pretty long description for something we can say in just one word — awesome! Alyssa, who won the 2012 RT Reviewers' Choice Award for Best Paranormal Romance for Heart of Atlantis, makes sure that her heavy plots don't become overwhelming by giving her readers some breathing room. She says:
"I balance the dark and light sides of the book by having the humor be the release valve when the pressure-cooker thriller plot gets too intense — nobody can live on the edge of the cliff every second of every day for an entire book. There has to be time for banter, romance, and hot sexytimes!"
We say bring on the sexytimes! And if you love the action and snark of a Day novel, then the author has some more authors you might like including Jeaniene Frost, Lara Adrian, Yasmine Galenorn, Jennifer Ashley and Charlaine Harris.
Takeaway: Action, thrills and humor do have a place in the same story, just remember the key is balance.  
Which do you prefer from your paranormal read: giggles, screams or something in between? Let us know in the comments below. And to learn more about the panels and events at this year's RT Booklovers Convention, follow this week's RT Daily blog feed!