RT BOOK REVIEWS Seal Of Excellence Winner — Tess Gerritsen for Ice Cold
Fri, 07/16/2010 - 5:46pm — admin
RT BOOK REVIEWS is thrilled to announce that the June 2010 Seal of Excellence winner is Tess Gerritsen for her compelling suspense novel Ice Cold.

Gerritsen is in the midst of her press tours for Ice Cold as well as her new TNT series Rizzoli & Isles (read about the show's debut here), RT Web Editor Morgan Doremus was able to track down the author for this exclusive interview. They chat about the author's thoughts on actresses Angie Harmon and Sasha Alexander, Gerritsen's inspiration for Ice Cold and how this novel is a turning point for her heroine Maura.
LISTEN HERE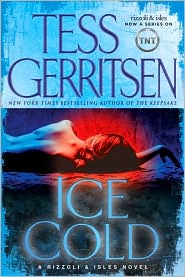 Check back next week when the RT staff will discuss why Ice Cold was their pick for this month's Seal of Excellence and which other titles were contenders.