RT Casting Couch: Kathleen Hale's No One Else Can Have You
Tue, 01/07/2014 - 11:36am — admin
Oh hey there! It's January 7! Have you bought/downloaded/received your pre-ordered copy of No One Else Can Have You, Kathleen Hale's YA mystery debut? No? <taps foot> We'll wait.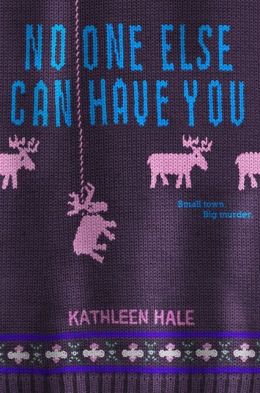 Seriously, we love this book so much. If we still had a trapperkeeper — and would that we did have a trapperkeeper — we'd be drawing Kathleen Hale's name all over it with hearts and bunnies and rainbows.
Still not convinced? Okay, fine. We're going to cast this YA-esque Fargo for you, and you shall be unable to resist. Sound good?
Kippy Bushman: Kippy's trying to deal with the murder of her best friend, all while realizing that her small town is not actually interested in, you know, solving the crime. iCarly actress Jennette McCurdy has the perfect Midwestern look, dontchya think?
Ruth Fried: Poor Ruth is brutally killed before even the first page. It also turns out she wasn't exactly who Kippy thought she was. Isn't that always the way? We imagine her as Ender's Game actress Hailee Steinfeld.
Dom Bushman: Kippy's dad, good old Dommy, is a middle school guidance counselor and right-wing Republican. We can totally picture the fantastic Bryan Cranston delivering Dom's "Hugging Your Teenager" speech.
Colt Widdacombe: He's a bad boy jock, too stupid for his own good. Ruth's boyfriend, he's, uh, gotten around. All the girls want him. Know why? Because in our mind, he looks like Parker Young:
Jim Steele: Ruth wasn't so faithful to Colt, either, and to her, age was just a number, as she fooled around with this fiftysomething town lawyer. (We wouldn't throw John Slattery outta bed either, Ruth!)
Libby Quinn: Oh my Gah (Queen Bee Libby won't let cha say G-o-d), this cheerleader's got more than just one screw loose. We think Warm Bodies star Teresa Palmer would be great in this role.
Davey Fried: Ruth's grieving brother Davey's home from the army and understandably not doing great. But there, there, Scott Eastwood, we'll make you feel better.
(Okay, Scott Eastwood may be too hot to play Davey, but it's our world, and we want to look at Scott Eastwood.)
Ralph Johnston: For Kippy's video-game obsessed neighbor, we figure you could take Clark Duke, let his hair grow out a little shaggy-like, tell him to embrace his hoarder tendencies, and you'd be set.
All right, so now will you go get your copy of No One Else Can Have You, in stores and online today, so that we can obsess together? That would be great, thanks. Also, you can see who Kathleen Hale envisioned as her characters here. And for more YA stories to lose your mind over, visit our Everything Young Adult page!