RT Exclusive: Laura Moore's Radcliffe Sisters Discuss Jordan's New Man
Mon, 01/31/2011 - 10:31am — admin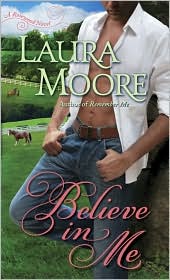 Laura Moore's contemporary western Rosewood Trilogy is equally driven by the Radcliffe sisters' relationships with each other and the romances that these women find along the way. This month the series second, Believe in Me, features the middle sister Jordan who must learn to love again. In honor of the Radcliffe's special bond, the author shares an RT-exclusive scene between Margot and Jade. And then don't miss your chance to meet Jordan's new man in the excerpt of Believe in Me at the end of this post.
I'm so excited to be here!
 
Today I'm blogging to celebrate the release of Believe in Me, Book Two of the Rosewood Trilogy. The trilogy is about three sisters, Margot, Jordan, and Jade Radcliffe, who after a terrible family tragedy come together to save Rosewood, the beautiful old estate and horse farm that's belonged to the Radcliffes for generations.
 
Believe in Me is Jordan's story, whose heart has been torn to pieces by her husband's infidelity. Newly divorced, she and her three children return to Rosewood where she attempts to build a new life for them and resurrect a career as an interior designer for herself. Attempting to land her first decorating commission she meets Owen Gage, a man whose good looks and smooth confidence unnerve her. She immediately decides to keep as much distance from this man as possible. Then one day Owen unexpectedly arrives on her doorstep offering her a very attractive commission to decorate the old house he is renovating. Despite her better judgment, Jordan accepts the job. Soon Jordan recognizes that Owen might not be the one person who can repair her broken heart, if only she has the courage to open it to love again.
 
One of the themes I explore in this trilogy is the strong bond that exists between these sisters, so I thought I would offer you a scene where Margot and Jade are talking about Jordan and Owen, whom they have just met. After witnessing what Jordan went through when Richard, her husband, was unfaithful, they are very protective of her. But they also want to see Jordan happy again…
 
The scene I've written takes place later in the same evening following a dinner Owen has eaten at Rosewood with Jordan and her sisters and Travis Maher, Margot's husband...
 
Enjoy!
- Laura Moore
***
Jade drops down on the sofa next to Margot and asks, "So what's the verdict?"
 
Laying aside the latest issue of Practical Horseman Margot glances at her. "Hi. You're back. How was bowling? Did you win? And this would be the verdict on what exactly?"
 
"Hello? Remember Owen Gage, the dude who came to dinner? The dude who just happens to be Jordan's new employer? And of course I won. I wowed the Reverend with some very sweet strikes. So, did you happen to see how jumpy Owen made Jordan? I thought she was going to puree the fruit salad the way she was stirring it with that serving spoon."
 
Margot grins at the memory. "Yeah, I noticed."
 
"And did you notice he was pretty hot?"
 
"I have eyes. Of course Owen can't compare to Travis, who's a--"
 
"--god," Jade finishes for her with a laugh. "You know, I think you've mentioned that thought a couple of times to Jordan and me. But to get back to Owen, who is no slouch in the looks department, I gotta wonder if he's good enough for Jordan. The way he got the commission to decorate Witch Harrison's cottage was pretty sneaky."
 
"And now he's offered Jordan a job decorating Hawk Hill, which will be even better for her career than doing Nonie's cottage. Plus she won't have to deal with Nonie's toxic character."
 
Jade is silent for a moment. "True. But Jordan's beautiful. What if he's just being a guy and trying to get some?"
 
"Your expressions are so charming, Jade. Owen seemed pretty sharp when I gave him a tour of Rosewood and he kept his cool at dinner—no easy task with you, Travis, and me watching his every move and quizzing him about his life. Both Jordan and he obviously love everything to do with houses from the inside out, so my hunch is he's sharp enough to recognize how talented she is."
 
"He'd have to be the dimmest bulb in the chandelier not to see that Jordan's a phenomenal designer and a really great person--that is, when she isn't massacring innocent berries with a silver spoon. It's just that after what that jerk Richard did to her, she deserves the best kind of man. She and the kids deserve the best."
    
"Yeah, she does," Margot says with a nod. "So if he screws up--"
 
"—I'll screw him up," Jade promises darkly.
 
"I was going to say that if that happens, we'll be there for Jordan, just as we were before. And if you could avoid any illegal activities that would attract Officer Cooper's attention, that would be so great."
 
"You worry too much," Jade replies with a grin that turns into a huge yawn. "time for me to hit the sack. 'Night, Sis."
 
"'Night, Jade."
***
You can meet the man who Jordan falls in love with in this EXCERPT of Believe in Me and then pick up your own copy of this contemporary western romance in stores now!