RT Read Along: Megan Hart's Every Part of You - Part 3, "Taunts Me"
Wed, 03/05/2014 - 10:27am — admin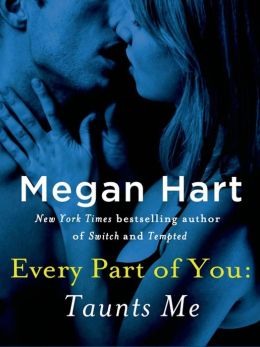 It's time for my part three recap of Megan Hart's erotic serial, Every Part of You, titled "Taunts Me." Part three Elliott and Simone asking "What exactly is it that were doing here?" Is it casual sex? A relationship? Is Elliott too closed off and controlling to let anyone into his life? Does Simone still have the hots for her ex fun buddy? So many questions!
First off, let me say that the two week gap between each part is too much. I kind of forgot where part two left off and had to go back and check. After a fight, Simone and Elliott both end up (separately) at the kind of smarmy Louisiana politician's dinner party. Elliott figured out some business things while watching Simone from across the room, and pretty soon they're groping each other because who can really stay mad at someone they're having fantastic sex with?
They head back to Elliott's place for more sexytimes, during which Elliott urges her to talk more about her masochistic tendencies, which is super dirty and hot.
The morning after …
The next morning, we learn that while Elliott isn't particularly controlling in the bedroom, he's particular about everything else in his life and has clearly gotten use to the bachelor lifestyle. He doesn't want Simone messing with his stuff, which Simone brushes it off as a weird personality quirk and asks him more about his house and his family. Elliott is reluctant to share and SImone takes the hint. The conversation moves to relationship talk, and Simone assures Elliott that she doesn't want anything serious, just fun sex with a nice guy. He does the brooding, wounded hero thing where he warns Simone he'll hurt her because he's all fucked up, but Simone isn't phased because she's a smart lady who knows what she's doing. Seriously, people, you need a strong heroine to stand up to these complicated heroes. It keeps things interesting.
The fun buddy resurfaces! Where do we get one of those …
Later at work, Simone is bombarded with voice mails, texts and emails from her former fun buddy Aiden, a Dom who she realized wasn't a good fit for her, because he wanted a woman more submissive than Simone. (A refresher: Simone is a masochist, but she's no sub.) Now Aiden has a girlfriend and Simone has been preoccupied with Elliott, but Aiden still wants to maintain a friendship. More importantly, he wants Simone to meet his new lady.
Simone decides to join Aiden and his girlfriend, Corrine, for dinner, and she decides she likes Corrine. The three head back to Aiden's place where Simone gets to see the full extent of their relationship. In private, Corrine is an extremely obedient submissive. Resting on her knees, serving them coffee in her underwear, the whole deal. It was kind of like Aiden was showing off Corrine in a way that came across as, "this is the woman you couldn't be for me." Simone, however, isn't really all that jealous. She's over Aiden and while all of this is going on, is repeatedly checking her phone expecting to hear from Elliott. Nice sub, Aiden, can Simone go and get some, now?
The student becomes the teacher, but super kinky, like.
But Aiden has something else in mind. See, while Corrine is submissive, she doesn't love pain the way Simone does. And Aiden apparently wants the full package. Simone talks to Corrine about what she likes and stresses that it's important for a person to understand what they enjoy. She offers to help Corrine with managing pain, but Corrine declines the offer. Aiden tries to get Simone to stay, but before any kind of threesome talk can come up, Simone is out the door and headed to Elliott's. Phew. Awkward party over!
In which our hero tries to make it work.
Elliott has had a few days to absorb Simone's dirty talk from their last roll around the sheets and is getting used to the idea of bringing her pain. He decides to try something new — clothespins on Simone's nipples and a belt lashing! Simone reminds the novice not to use the buckle side (I love that Hart included this detail). Although Simone is receiving pain from Elliott, she is in charge of this whole exchange and Elliott is very open to learn. I love this power dynamic so much! Elliott doesn't come across as submissive, just inexperienced. And that's ok! Developing new releationships with people almost always includes learning something new, whether it be emotional growth, or how to beat someone with your belt properly. Even a stud like Elliott, who has been with tons of women, has room to learn something new.
Nipple clothespins are one thing, breakfast quite another.
The next morning, we're back to Simone invading Elliott's personal space (aka rummaging around in his kitchen) by making him breakfast. While she shrugged it off last time, she's clearly annoyed. She then tells him how she spent the evening, aka with Aiden, before she came by. Elliott is furious. Simone points out that he said he didn't want to date and why should he care who else she sees? Elliott thinks she had sex with Aiden and Simone isn't making any moved to correct his assumption because she's pissed off. Elliott counters by reminding Simone that their casual arrangement was something she said she wanted, too. Both are clearly not being honest and up front about their feelings and what they want, because who ever is in a romance novel? The story ends with Elliott admitting that Simone matters to him more than he let on.
And now, we wait nearly two more weeks until part four, "Denies Me," is available. While I'm loving this story, the serial timeline is starting to get to me.
Previous recaps:
Every Part of You part 2, "Resists Me"
Every Part of You part 1, "Tempts Me"
Have you been reading Every Part of You? Tell me your thoughts in the comments! You can pick up parts one through three, available digitally now. For more steamy reads visit our Everything Erotica page.