RT Read-Along: Ruthie Knox's Roman Holiday 1: Chained
Tue, 11/12/2013 - 1:37pm — admin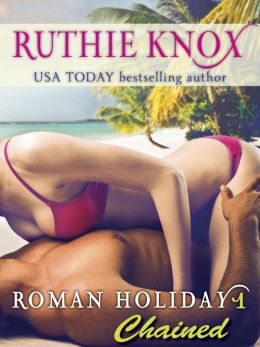 As we discussed yesterday, serials are making a comeback! It's an interesting concept, especially to we romance readers, who like to devour a story in as close to one sitting as possible, to get to that HEA. So your intrepid web editors, Elisa and Elissa (we know, we confuse ourselves sometimes) have decided to experience this whole trend in real time. We'll be reading along with Ruthie Knox's Roman Holiday, a 10-part serial that will be released in two chunks, one between now and mid-December, and the second in March. If you're reading along with us, let us know! We love company.
***

Elissa (who hereafter shall be referred to as EP, for all of our sanity): I'm so glad you decided to read a Ruthie Knox story with me! I've been a fan of hers since I snagged a copy of "About Last Night" at RT's e-book fair last year in Kansas City.
Elisa (aka EV): I've heard so many great things about her stories, and I've been on a contemp kick lately, so it only made sense. I have to say, I loved the first part of this story!
EP: So, the setup: We meet Ashley Bowman, who's chained herself to a tree in the midst of her recently deceased grandmother's vacation rentals, to prevent the properties from being torn down by heartless Roman Díaz.
EV: It's hard to like Roman as the big bad land developer standing between Ashley and her home.
EP: Yes! He definitely seems a legit bad guy hero. Good thing Ruthie has ten installments and 150,000 words to redeem him. And the Florida Keys setting is really wonderful. Ruthie really evokes the feel of the place — the laid back, anything goes, Margaritaville atmosphere. Wait, now I want a margarita.
EV: The Keys are a lovely setting. I especially enjoy how she chose one of the lesser-known Keys, as opposed to the popular Key West. But don't think these two are staying in Florida, because this is a … ROAD TRIP ROMANCE!
EP: Heck yea! And this isn't Ruthie's first road trip romance. We already know she does them well based on the awesomeness that is Ride With Me.
EV: Another to add to my TBR pile. One of the things I've noticed about her writing is her funny, slightly awkward, descriptions and side comments, which the third-person narrative totally lends itself to. For example, when she's talking about Roman's eyebrows
"His eyebrows gathered themselves together. He had abundant eyebrows — the kind of eyebrows with the potential to take over his whole face if he didn't keep them carefully trimmed. Which obviously he did, but still. Somewhere, there was a sophomore-year-of-high-school photograph of this guy with giant caterpillar eyebrows."
I love how that small detail makes Roman feel so relatable. Not to say that Roman and Ashley don't have their fair share of personal issues ...
EP: Ruthie is known for her messy characters, which inspire heady emotional relationships. I like what pieces of Ashley and Roman were revealed thus far. Ashley's grief over her grandma, her happy-go-lucky lifestyle versus Roman's coldness and mercurial relationship with Carmen, the boss's daughter — one of my favorite tropes!
EV: I'm really interested in getting to know Roman and his backstory, why he came to Miami and why he's so concerned with fitting in, even if it means being with someone he isn't completely head-over-heals for. That's the one thing I don't like about serialized novels — the waiting! The anticipation! But at the same time, it makes getting the next installment that much more exciting.
EP: The serialization aspect is pretty interesting, because at various points through the weekend I found myself thinking, "Hey, I should get back to that book, find out what's happening," and then I'd remember that I couldn't! I'd have to wait until next week.
EV: It's the sad truth.
EP: The feeling is pretty reminiscent, as Ruthie said on our blog yesterday, of watching a beloved TV show, where you can't wait to find out what happens next week, but wait you must. It's an interesting feeling to experience while reading! Anyone else reading along?
Are you reading Roman Holiday? Let us know what you think in the comments! And check back next Tuesday for our thoughts on book 2, "Hitched," available Monday, November 18. Fore more love stories visit our Everything Romance Page.