In the May issue of RT we offered a primer on several long-running and ongoing paranormal romance and urban fantasy series. Because there are so many great series out there, we couldn't highlight them all in the magazine, so here are a few more series roundups. Let us know what you think of this feature in the comments below and post your thoughts on these going paranormal romance/urban fantasy series.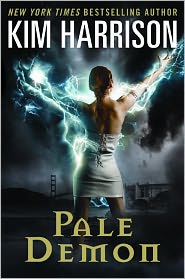 Kim Harrison
The Hollows (Urban Fantasy)
First Book: Dead Witch Walking, May 2004
Current book (No. 9): Pale Demon, February
Tell us about your heroine: Rachel Morgan is a twentysomething witch living in modern-day Cincinnati, fighting paranormal crimes and falling in and out of love. With a strong moral compass and a perchance to dress badly for the situation, she stumbles through mishap after mishap, trying to make a difference in the world, unintentionally making things worse as she serves as a catalyst for change both in small things and large. I've enjoyed writing Rachel tremendously. She's determined, focused, and the girl next door - with a little something up her sleeve.
Your universe is populated with … witches, vampires, pixies and werewolves.
How has your series changed since the first book? The Hollows stands at nine right now, which necessitates a lot of development, but the biggest change is Rachel's realization of who she is and how she is impacting others. She's done a lot of growing, and as I prepare to wrap the series up, we will be seeing Rachel coming into her own and taking charge. Smaller changes? Elves are out of the closet, werewolves have the potential to be a political force, the source of magic is in danger of evaporating, demons are poised for a last-ditch effort to save their species, and vampires are looking to Rachel to find a way for them to keep their souls after death. I think she can do it.
2

COMMENTS
SUBSCRIBE TO RSS FEED
EMAIL
SHARE
PERMALINK
READ ENTIRE POST