Sabrina Jeffries Relates To Her Heroine From What The Duke Desires
Thu, 06/20/2013 - 12:17pm — admin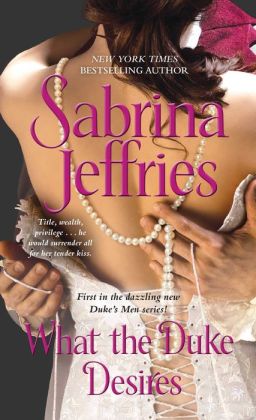 How much of an author goes into a heroine (or hero)? It could be a lot, it could be none at all, but there's definitely something to say for writing what you know — even if that means you're your best inspiration. Today author Sabrina Jeffries shares just how much of herself she wrote into her latest heroine — Lisette from What the Duke Desires.
There's a bit of the author in many characters, but in the case of my heroine Lisette Bonnaud, from What the Duke Desires, there's more than usual. For one thing, she's the product of two cultures, largely because she's the illegitimate daughter of a French actress and an English viscount and is forced at a young age to flee England for France. Having spent ten years of my early life in Thailand, I know how it feels to be unsure of where I belong. I know what it's like to have a mix of preferences like Lisette, who enjoys her French wine and cheese along with her English tea. She's aware of fashion, but it's not the center of her life. She's a blend of English and French, and no one ever knows which culture will surface in her next.
Her cultural upbringing is also why she's fond of travel. It's hard not to become addicted to it if you get a taste of travel when you're young, especially if, as in Lisette's case, your early life was very closeted. I first saw San Francisco, Japan, and Hawaii when I was seven; before that I'd lived only in rural Louisiana. You can imagine how exciting it all was for me. Even as I was homesick for my grandparents, I was fascinated by gibbons in trees and papaya for breakfast. Lisette wants to soak up everything she sees as she and Max travel; I know exactly how that feels.
But my favorite part about Lisette is that she wants to be an agent for the police ... even though she'd make a terrible agent. I wanted to be a spy from the time I was young, yet there has never been a woman less spy-worthy. I have trouble lying, I have trouble keeping secrets, and I can't keep my emotions out of things. When I tell my friends I once wanted to be a spy, they burst into laughter. And that's Lisette. She's clever enough, resourceful enough, and knowledgeable enough to be an agent. But her hero Max, that devil, doesn't mind pointing out to her that she really wouldn't enjoy being one.
That was the fun of writing Lisette — watching her become self-aware and learn to deal with her unusual upbringing. In the process, she found not only the love of her life, but her true self. And what more could an author ask for from a heroine?
- Sabrina Jeffries
You can pick up a copy of What the Duke Desires, available in stores now. For more historical tales visit our Everything Romance Page.