Samantha Young On How Money Can Make A Man - But Doesn't Have To
Wed, 05/08/2013 - 11:11am — admin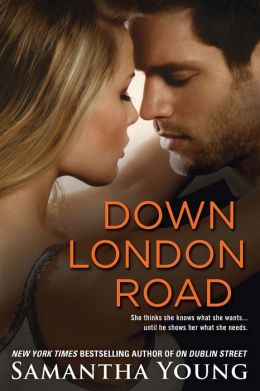 There's no doubt wealthy heroes are hot, but what is it specifically about a man with money that makes such an attractive contemporary romance hero? Samantha Young, author of Down London Road, is definitely a fan of billionaire heroes, even though her latest leading man is a bartender who isn't exactly rolling in dough. Today the author shares why she loves rich heroes, and why money doesn't necessarily make the man.
Contemporary romance has one prolific but elusive hero: the handsome one with all the money and gold. Even Braden from On Dublin Street is a millionaire. So what makes that such an attractive quality in a hero? Is it because he can buy the heroine lots of pretty things? I think if we're being honest… a little bit, yeah! Or is because of the suits? The suits definitely do it for me.
I do think it's an attractive quality for two main reasons though — one: most of the heroes in contemporary who have money have it because they earned it. They're hardworking businessmen who have built their company from the ground up or inherited a family company and work hard to maintain its success. We readers do like a hardworking hero. A man who puts determination and passion into creating a successful business is a man who hopefully will put that kind of determination and passion into his relationship. Being so successful also suggests we have an intelligent hero on our hands, and we readers need an intelligent hero for our smart heroine so we can chuckle and cry at their witty banter and very insightful emotional declarations. Two: A hero with that kind of money takes most of us into a fantasy world we've only ever dreamed about. Not only do we have this fantasy male but he exists in a world where we don't have to worry about how we're going to pay the phone bill or how to dig out that five dollar bill we're sure we lost down the sofa cushion. That's beautiful escapism right there.
BUT… do our romantic heroes really need to be a money guy to get us all hot and bothered? I don't think so. Take Cameron MacCabe from Down London Road. Cam is a graphic designer who falls victim to the economic climate and loses his position only to have to return to bartending until he can get a job in his industry. Financially Cam is just your average Joe. He prefers tattoos and engineer boots to fast cars and three-piece suits. He lives in a modest two bedroom apartment instead of a stylish penthouse. He reads graphic novels instead of the business papers, and he'll take a beer over an expensively-aged whiskey. He doesn't do badly but he isn't going to be sweeping you off your feet and taking you to Paris in his private jet any time soon. That's not to say he won't take you to Paris but you'll probably be flying economy and staying in a Holiday Inn. What he does to you in the Holiday Inn will, however, be worth the lack of opulence *wink wink*.
Despite his lack of money Cameron MacCabe and all heroes like him still have the elements of the billionaire that we romance readers love. He's hardworking and determined. He's a survivor and he's just as much an alpha male as his richer counterpart. He's persistent and funny and a bit of a brooding hero. He's a fantasy, and although he exists in a world many of us are familiar with, he's there to show us that there is hot, beautiful escapism in our world too; that existing in our ordinary is something sexy and extraordinary. This is what sweeps Jo, the heroine of Down London Road, off her feet. For reasons far more understandable (and often noble) than she realizes, Jo is susceptible to the hero with the financial security. It's a fantasy she's held onto for years until Cameron MacCabe comes along and teaches her that heroes come from all walks of life and sometimes the one that you think you want isn't the one you need…
- Samantha Young
You can pick up a copy of Down London Road, available in stores and online now. And to learn more about contemporary hunks visit our Everything Romance Page.