Same Book, Different Reaction: Eleanor Moran Talks Rebecca
Tue, 04/22/2014 - 10:21am — admin
We love re-reading our favorite books as much as the next bookworm. But there's no denying that a book can lose its charm over time and when we return to it years later, our interpretations of the text can be skewed thanks to our life experiences. Don't even talk to us about watching Reality Bites once you're past your angsty twenties. Eleanor Moran, author of The Last Time I Saw You, knows this sad phenomenon to be true. Today, she talks about one of her favorite classics, Rebecca, and how her initial impressions of the book have shifted over the years. Take it away, Eleanor!
Last night I dreamt I went to Manderley again ...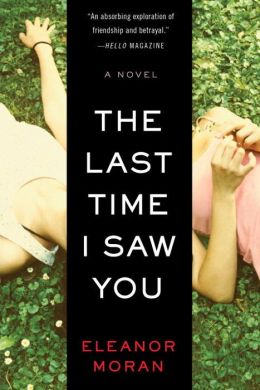 I cannot think of a single opening line that is more memorable and evocative than those first few words from Daphne Du Maurier's Rebecca. I was fourteen when I first read it — longing for first love, and far too spotty and geeky to find it (a typical writer in waiting, really). Also, perhaps most crucially, I'd grown up with a very distant father whom I adored, though I only saw him intermittently. To me, the imperious and unknowable Maxim de Winter seemed like the perfect romantic hero.
The nameless girl who narrates the story spends much of her marriage consumed by jealousy, imagining that Maxim's black moods are because he's still in love with his first wife Rebecca, who drowned in mysterious circumstances. Maxim is relentlessly awful to her, he even he files his nails with an emery board and peels a tangerine during the world's most unromantic proposal. It's so unromantic that she actually misses it. "I'm asking you to marry me, you little fool" he retorts. Soon they're ensconced in Manderley, his rambling stately home on the Cornish coast, which he clearly loves far more than either of his wives. He loves it so much, in fact, that <SPOILER ALERT> he murders Rebecca to make sure he keeps hold of it.
I couldn't believe, reading it again in my 30s, how misguided I'd been back then. I remember my absorption the first time, tears streaming down my cheeks, hoping that the two of them would get away with hiding the brutal murder and be allowed to pursue their perfect love. But that said, although it's both highly camp and morally dubious, it's still a truly wonderful book. It perfectly captures the agony and ecstasy of first love, and the sense of place — the rugged Cornish coastline where Manderley is perched, as well as the house itself — is beautifully conveyed.
Rebecca also partly inspired my new book, The Last Time I Saw You, in which my heroine, Livvy, ends up fighting her feelings for the widow of her best-friend-turned-enemy, Sally. As she grows closer to William, she's also unravelling the tangled circumstances surrounding Sally's untimely death in a car crash, haunted by the sense that she will never live up to her dead friend's hold on his heart.
To me, Rebecca Syndrome is a universal experience. Haven't we all, hopefully in less dramatic circumstances, been left wondering if our partner is secretly comparing us to the girl they left behind? I know I have. Perhaps that's why Rebecca is such an enduring classic, adapted for the screen time and time again. I know for me that I can always still while away a cold winter's day lost in its pages.
- Eleanor Moran
Which book have you reread and thought differently about it afterwards? Let us know in the comments! And be sure to pick up your copy of Eleanor's The Last Time I Saw You, in stores and online today! For more Mainstream authors and books, visit our Everything Mainstream page!