Sara Humphreys Introduces Us To Her All-Female Vampire Clan
Mon, 08/05/2013 - 1:12pm — admin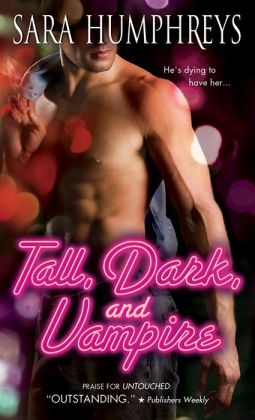 Despite the ever-changing shifts in reading trends, vampires have a seemingly immortal ability to enthrall readers forevermore. Sara Humphreys, author of the Amoveo series, is ready to put her unique spin on vampires with Tall, Dark, and Vampire, the first in a new series featuring an all-female vampire coven. In this RT Top Pick!, the Coven finds itself at the center of a murder investigation as Olivia, the coven leader, comes face to face with her former love — a man whose murder she witnessed years ago. Sara is here today to discuss the new book, the members of the coven, and how each member deals with their ever-increasing problems. Let's take a look!
When I pitched my New York City vampire series to my agent I told her it was Sex in the City meets True Blood. I love vampires but I wanted to build a series around a coven of vampire chicks because I'm a firm believer in girl power. Each woman in the coven will have her own book and find her Happily Ever After with her one true love. However, no man can ever take the place of a real girlfriend and through thick and thin, this coven of vampire chicks will stick together.
Life for these undead gals is anything but simple and the diverse mix of personalities makes for an interesting little family. So without further ado, I'd like you to meet the vampire vixens of New York City.
Olivia Hollingsworth: Mistress of the coven. Olivia is a 300-year-old, celibate vampire with a hankering for sexy suits and hot high heels. With curly, bright, red hair and sharp green eyes, Olivia is not one who blends easily into the background, no matter how hard she tries.
On the night she was turned, the love of her life was murdered in front of her as she watched helplessly. Unable to save him, she's spent the past three centuries rescuing stray young women, a dog … and most recently, an alley cat.  She's a savvy businesswoman and runs her NYC nightclub the same way she runs her coven — with her heart and her head. She and her coven live in apartments beneath the club, which is run out of an old church in Greenwich Village.
Olivia never wanted to have her own coven but one youngling vampire at a time, it just kind of happened. With little interest in ruling or lording over other vamps, Olivia runs her coven more like a family than a police state, but that kind of leniency can lead to trouble, especially with newly turned vampires.
Sadie Pemberton: Club DJ and Olivia's Best Friend. Sadie is Olivia's best friend, was turned by Olivia two hundred years ago. Olivia and her maker, Vincent, were traveling through a largely unsettled part of Arizona and caught the scent of blood. Sadie's family had been slaughtered by a band of Apache Indians but the faint, dwindling beat of Sadie's heart called to Olivia. 
After one hundred years, Sadie could have severed her ties with Olivia and branched out on her own but why do that? Olivia was her confidant, friend and protector. Sadie's a fan of leather and lace, Guns n' Roses but still hasn't decided if she prefers men or women.
Trixie LaRoux: Bartender and Resident Punk Rocker. Trixie was Olivia's second addition to the coven but her bright pink hair and leather-studded attire make her stick out like a sore thumb. Olivia found her dying of a drug overdose in an abandoned subway tunnel in the early 1980's. Trixie swears like a truck driver and while she seems brazen and bold, she's actually quite guarded. Olivia is the only one who knows the dark secret that Trixie harbors. Even when her one hundred years are up and the bond is broken, Trixie will never leave the woman who gave her a second chance.
Maya Robertson: Bartender and Coven Bad Girl. Five years ago, Olivia found Maya in the alley behind the nightclub, beaten, raped and moments from death. A blonde, blue-eyed bombshell, Maya is the newest member of the coven and causes the most trouble. She gives a whole new meaning to the term man-eater and spends the majority of her time playing with human men. However, there's far more to Maya than meets the eye and only Olivia knows how deep the scars run.
These vampire vixens are looking for love in NYC and taking a bite out of the Big Apple along the way. One thing's for certain, whatever man tries to claim them better not try to tame them.
By the way, I'm having a Twitter Party on August 6th from 7pm-8:30pm EST to celebrate the release of Tall, Dark, and Vampire. To join the party simply follow @authorsara and use the hashtag #nycvamps in all your tweets. Prizes include a Nook HD, signed books and more! All the details are on my website.
- Sara Humphreys
You can pick up a copy of Tall, Dark, and Vampire, available tomorrow! For more vampires and beyond, visit our Everything Paranormal & Urban Fantasy Page.