Sarah McCarty Goes Behind The Scenes Of Tracker's Sin
Fri, 10/15/2010 - 10:54am — admin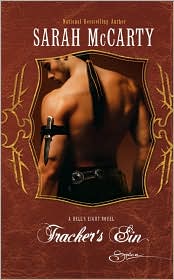 Author Sarah McCarty has a reputation for creating sizzling historical erotic romance. Her latest novel, Tracker's Sin, is no exception. Discover how the author blends her signature heat with the serious topics of absue, racism and post-traumatic stress disorder in Tracker's Sin. And don't miss the EXCERPT at the end of the post.
None of us lives in a vacuum. All our experiences, good and bad, make up the fabric of who we are. There are places in the material of our lives that show the wear of hard use, and others that demonstrate the perfection of the weave. But if the warp was laid right, the fabric will be strong and any tears once mended, will be that much stronger. It's the same for characters in a novel.
When a story idea comes to me, it comes in flashes of my hero and heroine's experiences that fall through my subconscious in seemly random threads of color. But as time goes on, the threads lay down in a warp of past and present, hopes and fears Wants and desires. I begin to see a ghost of a pattern for their future.
I can't see the end when I start chapter one, but I can feel the momentum building, and it's on faith that I start writing. Typing as fast as the shuttle of my imagination can carry me through the warp, I watch the story emerge, laughing and crying right along with my characters.
Tracker's Sin was no exception. I knew from the first book in the Hell's Eight series that the heroine, Ari, was going to have issues and it was a little intimidating to contemplate addressing them, but Tracker? He was even more scary because he was such an unknown. A tough man of mixed ancestry with pain of his own, I thought he was too hard for Ari, but as I sent the shuttle again through the warp, I saw how these two complex, passionate people with their traumatic pasts complimented each other. How Ari's courage and humor meshed with Tracker's hidden need to nurture and protect. How both of their pasts had inspired in each of them an appreciation for the present. How out of those moments there grew a bond that provided the foundation of trust and love upon which both could stand before moving out of the ugliness of the past into the beauty of their future. 
Was it easy writing a story with the issues of racism, trauma, loss, and forgiveness contained within the romance? In some ways, no, but in others, yes, because the depth of the characters' experiences gave me the opportunity to showcase a strong, sexy, couple who earned their happily-ever-after. And gave to the reader, hopefully, a story that will linger in their hearts.
- Sarah McCarty
You can pick up your own copy of Tracker's Sin, in stores now.