Sarah Sundin On the Balancing Act
Thu, 09/12/2013 - 11:18am — admin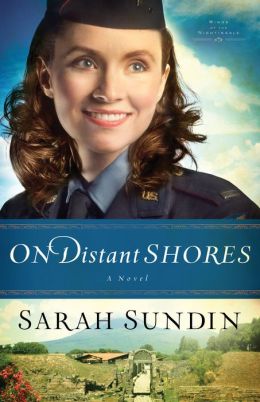 Relationships are never 100% easy, but they're certainly not diffucult all the time either. Like most things in life, relationships are all about finding the right balance, and the characters in Sarah Sundin's On Distant Shores know a thing or two about the push and pull of love. Today, Sarah discusses the new book and the power of finding the right balance.
***
What attracted you to the love of your life? At first glance it might have been his dreamy eyes, broad shoulders, or chiseled chin. You might have been drawn closer to him by common interests, cemented by his personality and humor.
At first we're attracted by commonalities. You both love Labrador retrievers or sushi or water-skiing. Maybe even labs who eat sushi on water skis. You both laugh at the same jokes and enjoy the same movies and like to travel.
But I believe a relationship becomes strong and enduring because of differences, which lead to balance and growth.
In my latest novel, On Distant Shores, the romance grows when strengths and weaknesses balance out. Lt. Georgie Taylor is a perky and sociable flight nurse during World War II, while Tech. Sgt. "Hutch" Hutchinson is a quiet and serious Army pharmacist. Both serve in Italy and both are engaged to longtime sweethearts back home. Georgie's fiancé tells her he doesn't want her to change one whit, but the challenges and dangers of serving in a combat zone demand more than she can give. Deep down, she knows she needs to grow and to change.
A confident and independent man, Hutch helps Georgie see she's always relied on her friends and family to make decisions. She wants to become the type of woman who can make good decisions, especially in a crisis, to become strong while remaining feminine and compassionate. Hutch's quiet wisdom helps Georgie grow into the woman she was meant to be.
Meanwhile, Georgie's social nature encourages Hutch to set aside his books and mortar and pestle, and to interact with other human beings. Hutch is also becoming increasingly bitter due to thwarted goals and the disrespect he faces on the job. With her sunny spirit, Georgie challenges him not to make his goal his idol and to find contentment right where he is. She helps him become a better man.
Both come to realize there's a difference between people who are good to you and people who are good for you.
Have you found this in your own life? I certainly have. While I enjoy the many things I have in common with my husband, what I admire most in him are the qualities I lack. He is bold and decisive, while I want to make everyone happy. Yes, these are the areas where we're most likely to argue and drive each other batty. But these are also the areas where we balance each other and stimulate growth.
When I'm faced with too many options and start dithering, he helps me cut through to the essence of the matter and make wise decisions. And when he says something brusque, I smooth out his rough edges and translate for him — "What he really means is . . ." Over the twenty-four years of our marriage, he has helped me become more focused and productive, and I've helped him become more tactful and compassionate.
A love that lasts goes beyond attraction and common interests, embraces differences and encourages mutual growth.
How have you seen this in your life — or in your favorite novel?
-Sarah Sundin
***
Be sure to tell us how you've found the perfect balance in your life! On Distant Shores is now available in-stores and online, and for even more inspirational authors and books, head on over to our Everything Inspirational Page!