Saskia Walker On The Witches Of Scotland
Mon, 03/11/2013 - 12:34pm — admin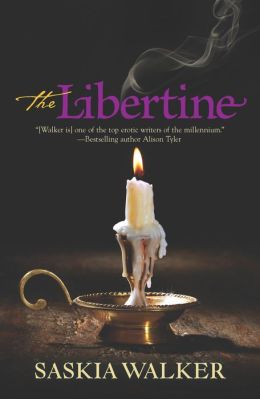 Saskia Walker's latest erotic romance series takes place in the eighteenth century and features a coven of Scottish witches. Her newest installment, The Libertine, follows Chloris Keavey, a woman who comes to coven leader Lennox Taskill for a remedy for her inability to conceive. Lennox's attempts to help Chloris lead to strong feelings between the couple, so when witch hunter Tamhas Keavey wants to claim Chloris as his own, Lennox must do what he can to keep her safe. Intrigued by this unique premise, we asked the author about the lore behind the Taskill witches and were surprised to find that the stories were inspired by historical fact. Today Saskia Walker discusses how this series came about and what readers can expect next.
It's fabulous to be here on the RT blog to chat about my Taskill witches series, The Harlot, The Libertine and The Jezebel. These three erotic romances were inspired by my visits to Scotland and the history of witchcraft and persecution in the Lowlands.
Why the Lowlands? The enduring image of Scotland in fiction is the rugged, romantic Highlands. History suggests that anything with a mystical or paranormal aspect was more readily accepted in the Highlands. Distance from the seat of government and the deeper connection with the land and the elements no doubt led to a more whimsical acceptance of the unknown. However, in the Lowlands of Scotland society was more developed during the period I am writing in, the early 1700s, and the laws of church and king defined the culture in a more tangible way.
Turn back the clock, imagine life in the 1500s. How might a small community react when one person is seen to have inexplicable powers, powers that may put others at risk? The fear and superstition evoked was what led to harsh laws on witchcraft in the 16th century. It was down to a Scottish king, King James VI — the son of Mary Queen of Scots, who later went on to become James I of England under the union of Scotland and England. Prior to his time witchcraft was a crime, but little action was taken. King James changed that.
The story goes that James had a morbid fear of death and an obsessive interest and fear of witchcraft. His wife was from Denmark, where he learned much about witch hunts during a visit in 1589, feeding his beliefs. He made the hunting and persecution of witches a crime punishable by death. It's a dark history and one that still haunts Scotland. In 2008 a petition was presented to government requesting the pardon of some 4,000 individuals who were tortured and put to death in Scotland's history for practicing witchcraft. You can read about the petition here: Time for witches to rest in peace, the Scottish petition for pardon.
The desire to write about love affairs during these passionate, turbulent times in the Lowlands got a hold of me! That troubled history together with the wild, beautiful landscape inspired me to write about fictional characters who found ways to survive and scrabble a living — to live and love and pursue the goal of escaping their fraught history. I set to work, reading everything I could. The more I read about the witch trials made me wonder what if a woman was put to death and she had children? What happened to them? What would their lives be like, haunted by the memory of their mother's persecution and death?
These questions soon led me to a whole scenario where people who were *really* gifted with the craft lived in fear of being discovered. I imagined that beyond healing they might pass down ancient Celtic and Pictish magic from generation to generation — secretly. My interest in sexuality and eroticism meant I grabbed the chance to write about characters who might explore sexmagick — the belief that the vital life energy inherent in physical and emotional love can be channeled and used in magical ways. It was the secret, erotic nature of the world I wanted to write about that particularly appealed to my editor, Susan Swinwood, at Harlequin. Susan gave me the opportunity to write this series, books about lust and love and magic in dangerous times.
Now that all three books are hitting the shelves, what can readers expect from the stories? A bumpy, passionate ride! The Taskill siblings were separated as children after witnessing their mother being put to death, and they each had a very different upbringing. As adults they are wary, wily survivors. But in a time when their craft is seen as evil and their sexuality immoral, they instinctively seek to defy the bounds set upon them. They are passionate people who believe in nature's ways and the power of physical and emotional love. Each of the three siblings is searching for the others, but it's through their discovery of love and magic with their life mate that they find their way back to their own kin again.
If you pick up the books, I hope you enjoy Jessie, Lennox, Maisie, and their adventures!
- Saskia Walker
Have a question for the author? Leave it in the comments. You can pick up a copy of The Libertine, available in stores now. For more genre news and coverage visit our Everything Erotica Page!