Saying Goodbye To Ann Aguirre's Sirantha Jax
Thu, 09/20/2012 - 1:50pm — admin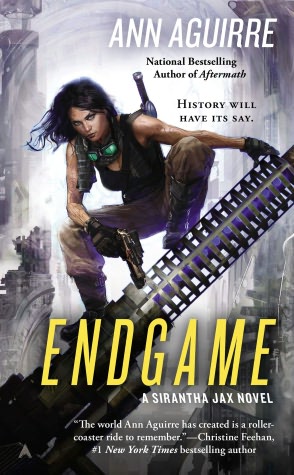 With copies of Endgame in hand, we fans of Ann Aguirre's Sirantha Jax series have to face the facts: this is the last ride we'll ever hitch with our heroine into Grimspace. And what a turbulent ride it has been! Sirantha snagged our attention right from the get-go, and we never considered that our adventures with her would come to an end. While letting go is never easy, the stages of grief have hit us pretty hard. From denial to acceptance, we worked our way through our sense of loss one step at a time as we prepared to say goodbye to Sirantha Jax.
Step #1 - Denial
No more books about the Grimspace-jumping, kickass Sirantha Jax? No, this cannot be happening! We refuse to believe that the woman who took down the Farwan Corporation (Grimspace), took on Syndicate criminals (Wanderlust), and acted as an ambassador for the Conglomerate (Doublebind) will no longer be gracing our shelves with new intergalactic adventures. All of that stuff we mentioned that Sirantha did? That was only books 1 – 3. She knocked our socks off in the next three installments, and we don't want to put them back on. Say it isn't so, Sirantha!
Step #2 - Anger
Gosh darn it, this isn't fair! Does Endgame really have to be the end? Only six books featuring the fearless jumper? We need more! We're not going to take this lying down, because Sirantha Jax certainly wouldn't. Just as she led the resistance to free the people of La'heng, we too rebel against injustice!
Step #3 - Bargaining
Okay, okay … we know that this can't be all that there is. Surely there are a few more stories about Sirantha that have yet to be told? C'mon, Ms. Aguirre. We know you have it in you. And if there's anything you need, you just have to say the word.
Step #4 - Depression
This is really it, isn't it? No matter how much we'd like to tear through Endgame as we did the previous five in the series, we're going to have to make this one last. Because every page turned brings us closer to the end of our journey with Sirantha Jax. And we're just not ready to let go. It's just too sad.
Step #5 - Acceptance. 
Alright, it's time to snap out of it. Just as Sirantha fearlessly stood up to her accusers in Aftermath, we too must be brave. We had a thrilling run with the Sirantha Jax series, but that doesn't mean the good times are over. Aguirre has so many interesting upcoming projects for us to look forward to: there's the Dread Series, which launches in 2013. It's set in same world as the Jax books (yay!), and it's said to be like Prison Break in space. Then there's the continuation of the urban fantasy Corine Solomon series with Agave Kiss in March 2013. And last, but not least, there are her young adult series. The Razorland trilogy concludes with Horde in 2013 while the Paranormal Beauty trilogy, which is said to be like Mean Girls with an otherworldly edge, kicks off with Mortal Beauty. While we're still sad to say goodbye to Sirantha, we're excited by other Aguirre worlds to explore.
Did you have a hard time saying goodbye to Sirantha, too? What Ann Aguirre read are you most looking forward to now after Endgame? For more butt-kicking heroines, visit our Everything Paranormal & Urban Fantasy Page!