SCOOPED! Featuring Ward, Hern, Butcher and More!
Thu, 09/02/2010 - 5:38pm — admin
For my weekly column Scooped!, I scour the Internet, contact authors and pick my fellow RT editor's brains to make sure no reader question goes unanswered. This week, I provide a Shannon K. Butcher spoiler, check in with Jessica Bird aka J.R. Ward and hunt down the latest from Candice Hern. Still have questions? Send them to me here and you may be featured in an upcoming post.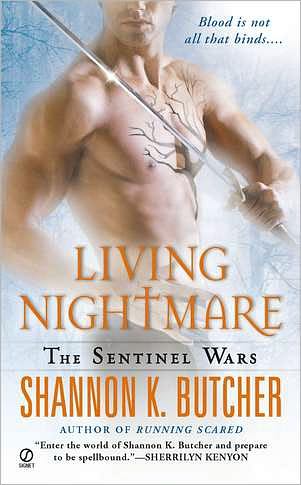 Question: Any spoilers you can share about the next Sentinel Wars book from Shannon K. Butcher? - Danni

Morgan: I can tell you that the name of Butcher's next installment is titled Living Nightmare and it comes out November 2nd. The book features Nika, the girl that has been locked away in a mental institution for the past 9 years because she has a mind connection to the evil sgath. Her savior (and I use that term loosely) is Madoc the sentinel closest to losing his soul.

Question: That's it!?! Come on, I got that from reading the summary on the author's website. I need more information. I'm addicted to the series! - Danni

Morgan: Okay, Danni, you wore me down. How's this for a spoiler – in one of Living Nightmare's most shocking scenes, Madoc kills someone at the sanctuary, someone important, and then he decides that he must leave to commit suicide for his sin.

Question: Do you know if Barbara Pierce or Candice Hern are going to be writing any more historical romances in the near future?  I'm a big fan of both of them and would love to read new works by both. Thanks! - Moriah R.

Morgan: There is good and bad news Moriah. Unfortunately Barbara Pierce is not scheduled for new releases in the foreseeable future. However, Candice Hern has a release scheduled for next spring! It is an anthology with fellow historical romance writers Stephanie Laurens, Mary Balogh and Jacquie D'Alessandro titled It Happened One Season.

Question: You do a lot of author interviews. Who has been your favorite? And is there anyone you haven't got to meet that you want to? - G.A.

Morgan: You know all of those people who say that they can't decide favorites? Well lucky for you I am not one of them! While I have had the privilege of meeting a ton of great people, my hands-down favorite interview has got to be Jennifer Crusie. Smart, funny, irreverent – that woman does it all. I was more than just a little nervous meeting her, but Jenny (yes, she lets me call her Jenny) put me at ease and had me laughing in under a minute.

As for who I still want to meet – that's an easy one. My writing idol has been and always will be the incredible Julie Garwood. I've never got the chance to speak with her, but if the time comes, you better believe that I have my questions planned!

Question: Will Jessica Bird/J.R. Ward ever be headed back to her O'Banyon series (and series books)? - Pammy

Morgan: For an answer to this question, I went to the author herself.


"The O'Banyon series has been really popular with folks - and I'm so very grateful! I have Billy and Mac's books all planned out, the tricky part is carving out the time in my schedule to do justice to the stories. I have every intention of completing the books at some point, however!  Right now, I'm committed to doing an Angel book and a Brotherhood book every year so time is quite tight, but I love the O'Banyons and miss them terribly. I will say that my early Jessica Bird books, which are contemporary romances, are being re-released. These are single titles, but have a feel not unlike the Special Editions. The first re-release, An Unforgettable Lady, came out in July and the second, An Irresistible Bachelor, should be out next summer. There are two others after that. I'm really thrilled that readers like the Special Editions - they were wonderful to write, a great break from the drama and the hardcore that go down in my other books!"
That's all for this week. Remember, if you have a question about anything that's going on with your favorite authors and books, send me an email at MorgansScoop@gmail.com and I promise to give you the inside scoop on the publishing world!