Scrapbooking With Series Author Carolyne Aarsen - Plus Giveaway!
Mon, 01/03/2011 - 10:21am — admin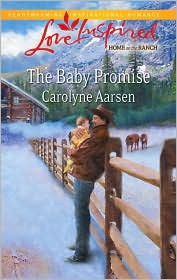 Inspirational series romance author Carolyne Aarsen shares how her love of scrapbooking helped her craft her latest multi-dimensional heroine, Beth. Learn how Beth uses crafting in this month's The Baby Promise and enter to win your own copy of this new Steeple Hill romance!
Every time I work on a book one of the struggles I have is rounding out my characters, especially my heroine. Who is she? What does she want? Why does she want it? With my book coming out in January I had a heroine who didn't trust words. She needed to find another way to express herself.
At the time, I was making scrapbooks for my children and grandchildren and doing what I love almost as much as crafting, collecting the supplies for crafting. My slightly OCD nature reveled in the variety of crafting products available for paper crafters - paper, ribbon, flowers, brads, die cuts, punches and on and on. But I knew I could only use so much in the scrapbooks. After all, the reason for the scrapbooks is enhancing the pictures, not overwhelming them with accessories. But when I discovered card making I found the perfect way to use as many craft supplies as I wanted in one small project that could be completed in an hour. 
Even better, I found the perfect vehicle for my heroine. She used cards to express herself when words failed her every time. Besides, the poor girl needed something to occupy herself while she was stuck out on her in-law's ranch, pregnant and her husband was deployed to Afghanistan.
So my heroine was cutting and gluing and embossing and stamping right along with me, wondering if she could take over the crafting store in town that was so poorly run. Maybe make a living doing it. (And living out a dream of mine.) She needed to think about supporting herself and the baby because when her husband returned from his deployment in Afghanistan, she was leaving the lying, cheating louse. But he was killed before she could tell him that and as he lay dying, his buddy Nick, promised the husband, he would take care of his pregnant wife. And now Nick is out on the ranch as well and what is he supposed to do with a pregnant woman and a promise he feels he doesn't have the right to keep?
I loved writing about Beth's work on the cards and how it became her way of expressing herself. As to what happens with her and Nick? If you want to find out more, there's one way that can happen. Leave a comment on this blog and be entered to win a free copy of the book, The Baby Promise as well as five of Beth's home-made cards (pictured below). Good luck and if you don't win, I hope you have a chance to read, The Baby Promise, out this month.
-Carolyne Aarsen
GIVEAWAY ALERT: One lucky winner will receive a copy of The Baby Promise and the special author gift. To enter leave a comment on this blog about why you love doing crafts. Or email your comment here with your US mailing address and the subject line "Carolyne Aarsen's The Baby Promise Giveaway." One entry per person, please. The winner will be announced on January 17th.
Blog Update 1/17/11: And the winner is ... Lisa B!