Seal of Excellence Winner Sherry Thomas On Crafting A Heroine - WIth Giveaway!
Mon, 10/15/2012 - 11:52am — admin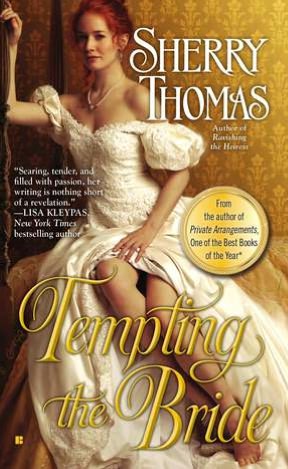 Author Sherry Thomas' latest historical romance, Tempting the Bride, won our October Seal of Excellence Award — and the hearts of RT editors! The novel's heroine, Helena, is described by RT editor Regina Small as "fiery and whip-smart". However, for all of her great qualities, Helena also has some weaknesses, including being entangled in an affair with a married man. But despite her scandalous actions, the heroine is still extremely likeable. We went to the author to see how she created such a multifaceted leading lady that readers could cheer for. Plus, at the end of the post get a chance to win the first two books in the author's Fitzhugh trilogy below!

This month, my latest release and book 3 of the Fitzhugh Trilogy, Tempting the Bride, has been honored with the October Seal of Excellence award by RT Book Reviews. As I was still in the middle of squeeing, I was asked to write a blog post on how Helena Fitzhugh, the female protagonist, went from a "lady embroiled in an affair with a married man to heroine that every reader will root for during the course of Tempting the Bride."
In other words, how to make a heroine who might not sound terribly palatable into someone likeable?
First, the affair is given context. Readers are immediately informed that the married man, Andrew Martin, has always been in love with Helena, but did not have the fortitude to withstand family pressure to marry the girl of his mother's choosing, mainly for reasons of property. His wife does not love him; in fact, Mrs. Martin is only waiting for her mother-in-law to kick the bucket before initiating annulment proceedings, so she can marry the man of her choice.
In other words, there is true adultery, where intentional deception leads to betrayal and emotional devastation. And there is technical adultery, where a man and a woman remain married solely because of the havoc a divorce would wreak in those historical times. Helena is not interfering in a marriage where either of the spouses still hold hopes about each other.
Two, Helena goes into this with her eyes open. She knows she is acting in a way that would destroy her reputation should she be discovered. She will do everything she can to avert such a fate but she is not blind to the possibility of it. Readers are more forgiving when the heroine, or the hero, for that matter, shows self-awareness.
Three, you can always depend on her for a good comeback.
For instance when Hastings, the hero, taunts her, "Becoming a publisher—so you think there still aren't enough bad books to be had?" She answers, "Of course, you would find the vast majority of books taxing, given your trouble with basic literacy—rest assured I will publish a few picture books just for you."
Four, she grows and changes. Once Helena loses her memory, and once Hastings decides to overcome his fear and open himself to her, even though her memory could return any time, she proves to be someone who can see past her old prejudices. I.e., even when she does remember how nasty he has been to her in the past, she is able to consider him not just as the man he had been, but the man he is.
And she also does not hesitate in admitting her own mistakes about Mr. Martin, as soon as she perceives that he has changed beyond recognition and the man she once loved no longer exists.
So even though Helena begins the book embroiled in an affair that might disqualify her appellation as a heroine, I hope by the end of the book readers see her as the loving, kind, but still fiery woman I enjoyed writing.
- Sherry Thomas
GIVEAWAY ALERT: Three lucky winners will receive the first two books in Sherry Thomas' Fitzhugh trilogy. To enter, leave a comment on this post telling us what quality you love in a historical heroine. You can also e-mail your answer here with the subject "Sherry Thomas Giveaway" and include your mailing address. U.S. addresses only. Winners will be announced October 22.
BLOG UPDATE: The winners are Tina Rucci, Justine Wang and M Kraut. Thanks to all who entered!
You can pick up a copy of Tempting the Bride, available in stores now. For more Seal of Excellence sinners, visit our SOE index. Want more romance? Head over to our Everything Romance Page.