September Mystery Overview
Tue, 09/11/2012 - 12:46pm — admin
Forget the whodunit, this month's mysteries will have you asking "wheredunit". Like a global case of Clue, September's fictional murders take place not only in ho-hum places like the library or the ballroom, but in far flung locales such as historical Japan and Victorian England. In news closer to home, Wendy Corsi Staub launches her new series with Nightwatcher a mystery set during the events of 9/11. And ladies continue to represent this month when our favorite female investigators return to the shelves. And finally, if you like imagine yourself solving crime, then read on to find three amateur detective stories that will have you excited to catch the bad guy. 
TAKE A TRIP WITH HISTORICAL MYSTERIES
This month's mysteries take us around the world and back in time, giving us the reads of a lifetime and armchair exploration at its finest.
Take time to stop and smell the cherry blossoms and incense while reading Laura Joh Rowland's The Incense Game. That is, of course, if you're able to put the book down. Set in historical Japan, Roh's mystery will have readers on the edge-of-their seats as they try to figure out, along with Sano and his wife, Reiko, who killed an incense master and her two students in the earthquake-ravaged city of Edo.
Next we move from the Land of the Rising Sun to the empire on which the sun never set, Victorian England, in Anne Perry's A Sunless Sea. Follow along with police superintendent William Monk as he investigates the shady "suicide" of a scientist who advocated for the regulation of the opium trade.
And, finally, settle down in Depression-era Alabama with Susan Wittig Albert's The Darling Dahlias and the Confederate Rose. The fine ladies of the Darling Dahlia Gardening Club weed both their vegetable plot and clues as they solve yet another mystery. The latest installment includes a historical cipher and embezzlement — the club may never be the same!
!--break-->A SUSPENSEFUL SERIES STARTER

Set in New York during the 9/11 terrorist attacks, Wendy Corsi Staub's series-starter Nightwatcher recaptures the atmosphere of the besieged city. The heroine of the novel, Allison Taylor, feels the uncertainty and fear that the attacks inspire, especially when her neighbor is murdered. We've asked the author, an NYC native, to talk about her inspiration for this book and to share her memories of 9/11:
On September 11, 2001, I was headed from my suburban home to meet my editor, who worked in the Woolworth Building in lower Manhattan. I was about to get on the train when the second plane hit, but my husband called from his midtown office and told me to stay away. That night, he came home to us, but countless other families weren't so lucky. I couldn't stop thinking of them, wondering how you possibly dealt with the implications of such tragic, massive loss out of the clear blue sky on an ordinary Tuesday morning.
Glued to the local news media for days after, I picked up several facts that triggered the idea for a future book — one I knew I wouldn't be ready to write for a very long time. It was all much too raw then; it would take me a full decade to return to the idea for Nightwatcher, which eventually evolved into a full-blown trilogy. The first thing I learned in those grim days: that violent crime in New York had significantly dropped in the aftermath of the attacks. Thank goodness, because the NYPD had their hands full amid the chaos and smoking ruins. But, my author's brain wondered, what if...? The second thing I learned was that witnessing a horrific terrorist attack could be the tipping point for someone who had already been mentally imbalanced — in my author's brain, that translated into someone who had been squelching violent tendencies now being pushed over the edge to act on them. And the third thing ... well, I can't tell you that. It's the basis for the twist on the very last page of Sleepwalker, opening the door to the plot of Shadowkiller. 
- Wendy Corsi Staub
WOMEN GUMSHOES WITH GUMPTION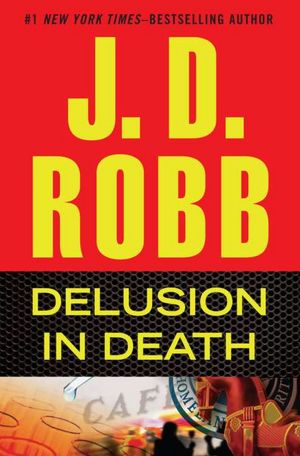 You can't keep a good woman down, much less a good sleuthing woman. This month sees the return of some of our favorite female investigators. They're taking on some of the most perplexing cases and solving them in their stride.
A New York happy hour turns deadly as hundreds of patrons are exposed to a biological agent in J.D. Robb's Delusion in Death. On the scene is Lt. Eve Dallas as she tries to determine who is behind the terrorist attack. RT Reviewer Smith notes that this book is a series must-read for Eve Dallas fans who are interested in seeing her finally "make progress dealing with her past."
Kathy Reichs' Bones are Forever brings Dr. Temperance "Bones" Brennan, a forensic anthropologist, back under our microscopes. The discovery of multiple instances of infanticide keep Bones busy, but when past relationships come back to haunt her, can she keep her mind on the job and catch a killer? RT's Smith loved this book's "chilling edge."
Not to be outdone, the dazzling duo Rizzoli and Isles make their comeback in the latest series installment by Tess Gerritsen, Last to Die. When a foster child's second adoptive family winds up brutally murdered, as had the first, Dr. Isles' curiosity is aroused. Danger seems to stalk the traumatized child, and she and Rizzoli mean to put an end to it. 
AMATEUR SLEUTH ROUND-UP
Women detectives, men detectives … everyone's got to get their start somewhere. And with a fine selection of novels about amateur sleuths at our disposal, we get in on the ground floor of what looks to be promising careers in the undercover business. First up is Paul Doiron's Bad Little Falls. Mike Bowditch, a Maine game warden, finds himself in the middle of a murder investigation when a body turns up in a snow bank. Was it the man's friend or his ex-girlfriend who did the deed, and if it was the victim's ex, will Mike be able to get the bewitching beauty out of his mind? Want some lighter hijinx? Then there's always the second addition to Jeffrey Allen's "laugh riot" Stay-at-Home Dad series, Popped Off. When money from the local soccer association goes missing, full-time dad, part-time PI, Deuce Winters is asked to investigate. And what he finds goes a lot farther than the usual PTA-type of feud. Looking for something with edge, but a bit more glitz and glam? When the body of the son of a Hollywood producer turns up dead in a dumpster, the friend of real estate agent Nikki Harper is fingered as the culprit. To clear her friends name and find the true killer, Nikki uses her sleuthing skills to uncover the truth in Cheryl Crane's Imitation of Death.
For more genre coverage be sure to keep your eye on the RT Daily Blog, pick up the latest copy of RT BOOK REVIEWS magazine and check out RT's Everything Mystery Page!