September Science Fiction Overview
Thu, 09/13/2012 - 1:04pm — admin
This month science fiction and fantasy readers can expect releases from several fan favorite authors, as well as some new faces. Today we're playing tour guide and pointing out some September hot spots of the genre. First up, we feature a fresh story from a Hugo-winning author that will appeal to readers across the genres. Next, two bestselling authors join forces to deliver a book that is truly extraordinary. After that, we turn our focus to a brand new series starter from Kate Griffin. And finally, we take a look at some memorable sci fi/fantasy romances hitting shelves thing month.
NEW FROM AN AWARD-WINNING AUTHOR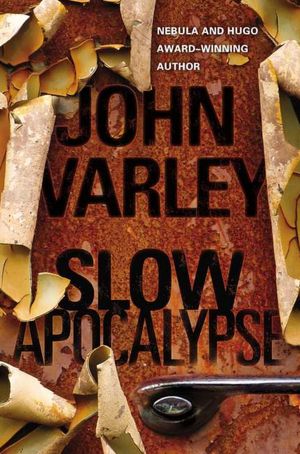 Hugo-winning author John Varley aims to reach a larger audience with his realistic science fiction tale, Slow Apocalypse, which imagines what could go wrong when America attempts to solve their impending energy crisis. Still dependant on the Middle East for oil, an American scientist develops a virus that will turn petroleum into a solid. When the scientist unleashes the biological weapon on an Iraqi oil field, he doesn't consider the possibility that the virus may spread — affecting the entire world's oil supply. When Los Angeles filmmaker Dave Marshall learns about the virus from an ex-military government insider working on one of his films, he's determined to prepare his family for a forthcoming disaster that could transform Earth and devolve society back hundreds of years. RT reviewer James Davis Nicoll called this story "an enjoyable entry in an already impressive oeuvre," and we don't doubt that Varley will continue to impress fans and gain new ones with this new release. Sound interesting? Slow Apocalypse is on shelves now.
A NOTABLE FANTASY SERIES STARTER

Stray Souls by Kate Griffin kicks off the author's new Magicals Anonymous series. When it's revealed to heroine Sharon Li that she's a shaman, she immediately organizes a support group for magical people with issues in order to better understand her newly discovered powers. Fascinated by this premise, we asked the author to share with us an ad Magicals Anonymous might place to help encourage paranormals to attend their meetings:
Have you ever considered the challenges of being a troll?
You just can't get a good seat in a decent restaurant, and the assumption that, simply because you're a seven foot high killing machine, you should dine out on raw pigeon every night is, frankly, offensive.
Consider the biro. It's clearly not been manufactured with talons in mind. Which is a problem if you're a banshee, lacking internet access, trying to renew your membership of Tate Modern. The NHS claim to be broad-minded, but they never leave enough O- in reserve for a hormonally challenged vampire, and just because you're a three foot high goblin stinking of sewage, doesn't mean your opinion shouldn't be taken seriously.  
Even local council authorities are reluctant to help. The lack of imagination shown by the pension service towards a hundred and eighteen year old necromancer isn't merely a shocking indictment of petty-bureaucracy, but also a sad reflection on the treatment of the elderly in this society, while occupational therapists still refuse to cater for werewolves.
Do you feel discriminated against because of your fangs?
Worry that society takes pixies for granted?
Can't find a decent Imp-English dictionary in your local library?
Call Magicals Anonymous.
A helpful, discrete support service for the mystically inclined.
TWO SCI FI FAN FAVORITES TEAM UP
Authors Cory Doctorow and Charles Stross have joined forces and combined three novellas to create what RT reviewer Elise Tobler calls "a warped roller-coaster ride of a novel." The result? The Rapture of the Nerds. By the end of the twenty first century, Earth has completely transformed. Our world is now post-singular, meaning anything can happen, and human Huw is part of a technology jury that tests bizarre new inventions and decides whether or not they should be available to the public. Huw's job sends him on outrageous adventures, creating a fun, fast-paced story that challenges readers to piece together a completely foreign, futuristic version of their own world. The story is filled with nods to pop-culture and will satisfy everyone from genre fans to those itching for an unusual tale.
FUTURISTIC ROMANCES WE LOVE
Whether it's past, present or future, love conquers all and this month we're excited about three new top-rated love stories with a futuristic twist. Whether it's teaming up to find ancient artifacts on a magical island, preventing Earth's population from succumbing to a deadly techno-virus, or helping liberate an entire alien race incapable of defending themselves, the heroes and heroines of these three futuristic tales certainly have their work cut out for them.
Want more genre coverage? Head over to our Science Fiction & Fantasy Page for genre news all month long.