The Series So Far: Catching Up With Devon Monk's Age Of Steam
Tue, 07/03/2012 - 11:20am — admin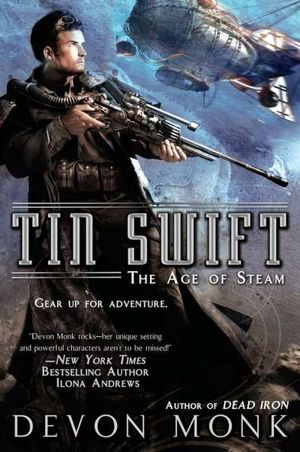 Devon Monk kicked off her Age of Steam series with last year's Dead Iron, which began the adventures of bounty hunter Cedar Hunt. Set in an alternate American western frontier, Cedar is faced with not only capturing monsters, but he also must deal with transforming into one himself during every full moon. For those new to the series, we asked the author to share what readers will need to know about Cedar, his story and steam age America before picking up a copy of the series second, Tin Swift which releases today.
In steam age America, men, monsters, machines and magic battle to claim the same scrap of earth and sky. In this chaos, one man must fight to hold on to what is left of his humanity ...
Cedar Hunt is a bounty hunter cursed by lycanthropy who has lost his wife, child, and brother, and long ago walked away from his scholarly life. When he makes a promise to the enigmatic Madder brothers in exchange for information that might prove his brother is alive, he finds himself caught in a fight he might not survive...and falling for Mae Lindson, a woman he should not love.
He has promised the Madders he will find the Holder, a powerful weapon created by mad devisers. But that isn't the only promise he has made. A child goes missing from the little town of Hallelujah, Oregon, and Cedar agrees to find the boy, who he suspects has been taken by the Strange–creatures of myth and nightmare that travel the country, seeking to destroy it.
What Cedar doesn't know is that the Holder and the child are in the hands of a dandified railroad tycoon, Shard LeFel, who is an ancient Strange banished to walk this land for centuries. Now near the end of his sentence, LeFel is desperately searching for a way to fend off his own mortality. LeFel knows he needs three things if he is to live: the Holder, the child, and the witch, Mae Lindson.
To defeat LeFel, Cedar Hunt, Mae Lindson, and the sweet Rose Small who is handy with the wild sciences of steam and metal, must join with the Madder brothers to stop LeFel, save the child, and find a way to destroy the Holder. They discover they have an unexpected ally in the form of Mae Lindson's undead husband, who rises from the grave with one goal in mind: kill Shard LeFel.
But LeFel is not without his weapons: mechanical killing devices fueled by rare glim, and his right-hand man Mr. Shunt, who is a blood-hungry, indestructible Strange.
Chased, hunted, and trapped, Cedar Hunt, his brother Wil, Mae Lindson, Rose Small, and the Madder brothers fight LeFel, his machines, and Mr. Shunt.
Even though they defeat LeFel and return the child to his family, the battle is far from over. Before they can claim it, the Holder shatters into seven pieces and scatters across the country.
Cedar is thrilled to be reunited with his brother and wants to break the curse they both carry. He also wants to build a life with Mae Lindson if she will have him. But he is still bound by his promise to find the Holder for the Madder brothers.
He and Wil must travel east with the Madder brothers in search of the Holder. East, to return Mae Lindson to the coven she left years ago, before the ties between her and coven steal her mind away and drive her mad. East, where Rose Small hopes to find adventure and love in those wild cities and skies.
What they do not know is that the Strange Mr. Shunt is following them, and is hungry for his revenge ...
- Devon Monk
You can pick up book two in The Age of Steam series, Tin Swift, available in stores today! For more steampunk, fantasy and sci fi adventures, visit our Everything Science Fiction & Fantasy Page!