Shana Galen Talks Historical Nicknames And When You Give A Duke A Diamond - WIth Giveaway!
Thu, 08/30/2012 - 12:52pm — admin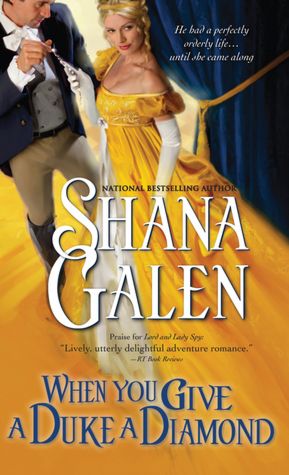 In Shana Galen's new historical romance, When You Give A Duke A Diamond, heroine Juliette is one of London's most popular courtesans. We just love the character's nickname "Duchess of Dalliance"  — it conjures up all sorts of naughty ideas! We were curious about how this notorious woman was given her handle. We also wondered if any other characters in Galen's Jewels of the Ton series had nicknames as well, so we went to the author to find out more.
Like any expectant parent, I agonized over possible names. Growing up, I never had a nickname. Let me rephrase that to say, I never had a nickname I liked. Once a nervy boy called me "Shane the Pain." I say he was nervy because I was always tall for my age, and almost no one was brave enough to call me any names to my face.
But there are nickname I don't mind. My husband and parents have sweet nicknames for me, and I chose a name with a cute nickname for my daughter. My characters are like children to me as well, and you can bet I agonized over their names and nicknames as well.
My latest historical release, When You Give a Duke a Diamond, opens like this:
Rumor held that the Prince Regent himself gave The Three Diamonds their sobriquets.
The book originally opened with the prince giving the heroines of my next three books monikers, but then I realized the term moniker wasn't in use during the early 1800s. This discovery was a fortuitous turn of events because it gave me the opportunity to use the term sobriquet, which is a much more sophisticated word and perfect for The Three Diamonds.
Who are The Three Diamonds? They're London's most sought after courtesans — the celebrities of their day. The papers love to write about them; Society lives to gossip about them; and men fall all over themselves to impress them.
Perhaps not every man…
It was fun creating each woman's nickname. I wanted the nickname to match the personality — either real or fabricated. My use of nicknames was also based on historical fact. Regency Society loved to give nicknames. The Prince Regent was Prinny — perfect as he was effeminate and a spendthrift. Famous courtesan Grace Dalrymple Elliott was Dally the Tall for obvious reasons. George Brummell was called Beau Brummell because of his excellent fashion sense.
Each of my glittering Cyprian heroines possesses a "title" for a sobriquet. These women aren't nobility, but they're treated as such. Here's a bit about each of them.
Prinny knighted Juliette, striking with her pale blond hair and ice-blue eyes, the Duchess of Dalliance. She broke hearts with a single smile and was never visibly affected either at the commencement or conclusion of a love affair. Her dalliances were legendary, and some claimed her lovers fell into a swoon when Juliette but disrobed.
You can meet Juliette in When You Give a Duke a Diamond, which releases tomorrow!
The prince favored the enigmatic Fallon, she of the dark eyes and raven hair, with the title Marchioness of Mystery. Whispers swirled about Fallon like a crushed velvet cape from the moment she appeared in London Society. No one knew from whence she had come, though many liked to speculate. She was a princess from a foreign land, a gypsy queen, the daughter of a fallen maharaja…
You'll meet Fallon in If You Give a Rake a Ruby, which releases in March 2013.
And then there was Lily—witty, lively, and burning as bright as her auburn hair. The prince dubbed Lily the Countess of Charm. There were some who said she had certainly charmed Prinny, charmed him into ejecting the formidable Mrs. Fitzherbert from his bed. Others claimed she was far too discriminating to open her boudoir to the bloated, overindulged prince.
Lily's book hasn't been titled (or written) yet, but you'll meet her in When You Give a Duke a Diamond.
- Shana Galen
GIVEAWAY ALERT: Two readers will win a copy of Shana Galen's previous book Lord and Lady Spy. To enter, comment here and tell us what your scandalous historical nickname would be! You can also e-mail your answer here with the subject "Shana Galen Giveaway," as well as your mailing address. U.S. mailing addresses only, please! The winners will be announced September 10.
You can pick up a copy of When You Give A Duke A Diamond, available in stores September 1! For more historical romance visit our Everything Romance Page!