Shana Galen's Top Five Historical Mysteries — with Giveaway!
Wed, 03/05/2014 - 11:04am — admin
We all love a historical romance, that's for sure. But there's something so exhilarating about when a historical romance is coupled with action, adventure and mystery. Shana Galen knows all about pairing intrigue with period pieces, as she often incorporates the two, like in her latest, RT Top Pick! Sapphires are an Earl's Best Friend. Today Shana's with us to share her top five favorite historical mysteries, so get your TBR piles ready. Be sure to check out the end of the post where you can enter for a chance to win Shana's latest. Let's hear it, Shana!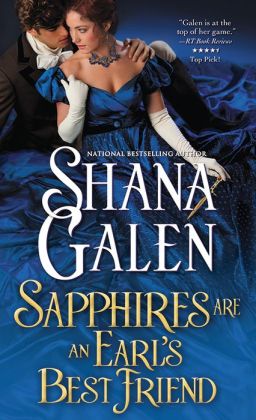 1. Remember the first time you watched Harrison Ford in Raiders of the Lost Ark? I do! Believe it or not, even more than I loved the swashbuckling Indiana Jones, I loved Marion Ravenwood. For a dame in the 1930s, she was pretty tough. Right then and there my future was decided, and I've always loved writing heroines who could stand up to a man — and maybe bring him down a notch too.
2. Another movie I've always loved is The Scarlet Pimpernel. There are many versions, and I love them all, but my favorite is the version with Anthony Andrews and Jane Seymour. I adore the way the Pimpernel never loses his cool. He can throw in a witty remark, even when he has a sword pointed at his throat. And heaven forbid that a scuffle with the enemy would ruffle his perfect cravat. That's my kind of hero!
3. These days historical romance readers have lots to choose from when it comes to adventurous reads. Elizabeth Essex's Almost a Scandal features a heroine who dresses like a man to take her brother's place in the British Royal Navy. Of course, the hero sees right though her disguise, but he can't reveal her true identity. He can't resist her either. Oh, I love a good sea-faring adventure, and this is one of the best.
4. Another author who writes great books set on ships is Marsha Canham. But I have to say my favorite of hers takes place on land. The Blood of Roses is set in war-torn Scotland during the Jacobite Rebellion. The English heroine has fallen in love with and married a Scottish spy. The sacrifices these two make to stay together makes this a historical romantic adventure not to be missed.
5. And last, but never least, is The Forbidden Rose, by Joanna Bourne. You can't go wrong with one of Bourne's novels, but this is my favorite. Set during the French Revolution, the heroine is a French aristocrat and the hero an English spy. Espionage, revolution, passion—swooning yet? Pick it up. You will be.
Ready to give a historial mystery a whirl? Enter below to win one of three copies of Sapphires are an Earl's Best Friend. U.S. and Canadian residents only, please. 
There you have it, folks! Be sure to pick up Sapphires are an Earl's Best Friend, available in stores or online now! And for even more historical mysteries, be sure to visit our Everything Romance page.