Share Your High School Prom Photos With Hope Ramsay And Win Big! — Updated With Winner Photos
Fri, 06/29/2012 - 10:45am — admin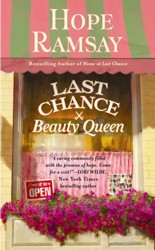 Were you the high school prom queen? Neither was author Hope Ramsay, and we certainly weren't!
High school may not have been our best four years but we've come a long way since then. However, we haven't forgotten our special night of too much hairspray, sequined dresses, spiked punch and a date with two left feet. 
Now that we can look back at our youth and laugh (or, at the very least, cringe minimally), we want to see your prom photos: the good, the bad and the ugly in all their glory!
Post your high school prom photo as a comment on Hope Ramsay's blog here and Hope will choose two lucky readers to receive a $25 Sephora gift card — because it's never too late to make up for that bad neon blue eye shadow decision — the winners will also each receive and a copy of her latest small town contemporary romance, Last Chance Beauty Queen. 

How embarrassing are your prom photos?
The two winning photos will be posted on the RT Daily Blog on Friday, June 29. And if that prom date ended up turning into something more, don't forget to share the details!
BLOG UPDATE 6/29/2012: Hope Ramsay got several great prom photos from readers and chose Molly and Charlene as the winners! Their fantastic photos are below. Congratulations and thanks to everyone who entered!
Contest winners Molly (L) and Charlene (R) with their prom dates
For more stories of love and laughter, check out our Everything Romance Page!