Small Town, Big World
Wed, 10/06/2010 - 3:30pm — admin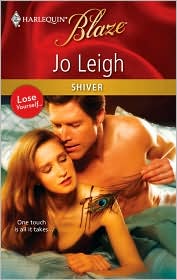 Author Jo Leigh may live in a small town, but that didn't keep her from incorporating a much larger world into her new series romance, Shiver. The story impressed RT Reviewer Andrew Shaffer as being, "Smart, funny and awash in pop-culture references, Shiver is exactly the type of book that's needed to attract new readers under 30 to contemporary romance." Find out how a woman who lives so far off the beaten path creates novels that are pitch-perfect to readers ...
I live in the boonies. There are approximately three hundred people in my town. One gas station. No stoplights. It's gorgeous here, and ideal for an introverted writer. The thing is, I'm an extrovert. Big time. I love parties, I'll strike up a conversation with just about anyone, walk up to total strangers and introduce myself. I like interaction, and I like it often. Which is why I live so much of my life online. I'm on Facebook, Twitter, Live Journal and Dreamwidth, to name a few social media sites. My close circle of friends include a 24 year-old radio journalist in New Zealand, a 23 year-old veterinary student in Tuscany, my 27 year-old lawyer/spirituality director in Manhattan and my 25 year-old guy actor in L.A. We chat daily. We share our tastes in movies, books, TV shows, comics, web sites, fashion, etc. (If you're in the US – be on the lookout for the new BBC show Sherlock this month on PBS!!!) We all read Blaze books. 
The characters in my Blaze books are a lot like me and my circle of friends. In fact, it was a discussion with these folks about ghosts and believing in them that sparked the idea for Shiver, my October Blaze. Who better to go spend a week in a haunted hotel than a total cynic? Carrie Sawyer is an on-line comic author who lives most of her life on the Internet when she's not at conventions like Comic-con or Dragoncon, or Wootfest. She's completely at home with the modern age, and is never two steps from being connected to the Internet. The only reason she agrees to go ghost hunting is because the hotel has wi-fi up the ying yang. Sam Crider, the hero, isn't much of a believer himself. He's a documentary filmmaker and his life, too, is woven inextricably with social media and electronic interface. Carrie and Sam bond over internet connections and ghostly  encounters, but end up with shivers of a different kind when they hide under the sheets. Because even in a world of email and sexting, nothing beats falling in love.
- Jo Leigh
Enjoy this EXCERPT and then be sure to pick up your own copy of Shiver in stores now!