Small-Town Romance, Historical Style: Julie Anne Long Talks Pennyroyal Green
Mon, 03/24/2014 - 11:30am — admin
Do you have your calendar blocked off for tomorrow because there's a new Pennyroyal Green book coming out from Julie Anne Long? Then we have just the blog post to tide you over til release day! In celebration of Between the Devil and Ian Eversea, we got the dirt from Julie on the series — and Olivia's story.
***
Fans of your Pennyroyal Green series — including, ahem, us — have been waiting for Olivia and Lyon's story. Give us some dirt!
I swear, I have the loveliest readers in the world. It's thrilling to know how much they care about Olivia and Lyon—I truly never anticipated how MUCH they would care, and it's wonderful. Readers of the series know that Lyon's Redmond's disappearance (allegedly because Olivia Eversea broke his heart), stirs up the centuries long enmity between the Redmonds and Eversea, as well as revives the well-known curse about the Everseas and the Redmonds: that an Eversea and Redmond are destined to fall in love once per generation, with disastrous consequences.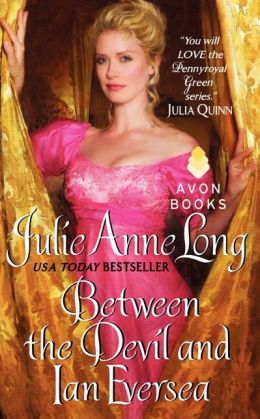 Olivia's arc has been progressing sort of naturally, subtly, throughout the books, culminating in a  momentous occurrence in A Notorious Countess Confesses, as characters taking note of the fact that she's being courted by Landsdowne. We get a sense that Olivia has made a sort of decision about her future. You'll just have to see what happens next.
Do you have Olivia's story plotted?
I NEVER plot. At least not until the story is well underway. But I do have scenes and dialogue written in my head, some quite juicy and intense ones as a matter of fact, and on a subconscious level, I suppose, yes, I do know exactly what's going to happen. It's going to be delicious to write.

Part of the fun of Pennyroyal Green is all of the reoccurring characters who pop up. Who is your favorite to write, and why?
I do love to write all of them, truthfully. I do have a soft spot for Colin Eversea, probably, because he launched the entire series, not to mention the song that won't die ("The Ballad of Colin Eversea").

Do you find it hard to keep writing in such a long-running series?
It's never easy, per se—let's just say some books are a little more willing to be written than others—but it's also not hard, if that makes sense. Because I have a wonderful time spending time in that world, and perhaps readers can tell. In some ways, it's like wandering through a museum with long, winding corridors and endless rooms and secret corners filled with exciting things to discover. I see stories everywhere I look in the Pennyroyal Green world. My inspiration from the beginning was to create a sort of connected series along the lines of TV's Coronation Street, or like Charlaine Harris's series, only with a specific hero and heroine per book.
Another great part of the Pennyroyal Green series, is how the Everseas and Redmonds are not in fact titled, a theme that you play with in this latest title. Why did you make that choice?
Part of the reason is that I'm one of those people who have trouble following a recipe. :) I always have to tweak it, personalize it, experiment, make it my own. And I often feel that power and authority is built into titles—a duke is usually accustomed to being treated and viewed in a certain light from birth, which shapes his character and the way he moves in the world—which from the standpoint of creating compelling characters feels somewhat limiting to me and narrows the range of truly original plot options. Not always, of course, but we've all heard the romance community kid about the plethora of duke stories. (Frankly, I'm a fan of a lot of duke stories. There's a reason readers love them, me included.)
But when possible, I like a character's personal power and authority and authenticity to be earned, to stem from the character's experiences and actions. Which is also, frankly, more fun for me as a writer. The Everseas and Redmonds have worked for their money, and continue to do that, and for me that presents interesting possibilities for plots and for the people they encounter. Miles Redmond is an explorer who has to go hunting for investors for his next expedition; Colin Eversea is now raising cows and sheep and doing a bang-up job of it; Isaiah Redmond is a brilliant investor. It's also fun to keep them humble and ambitious, because it's not like they don't want a title.
And there you have it! Between the Devil and Ian Eversea is available in stores and online this week. For more love stories, past and present, visit our Everything Romance page!