Sneak Peek: Elizabeth Boyle's Lord Langley Is Back In Town
Thu, 03/31/2011 - 7:17pm — admin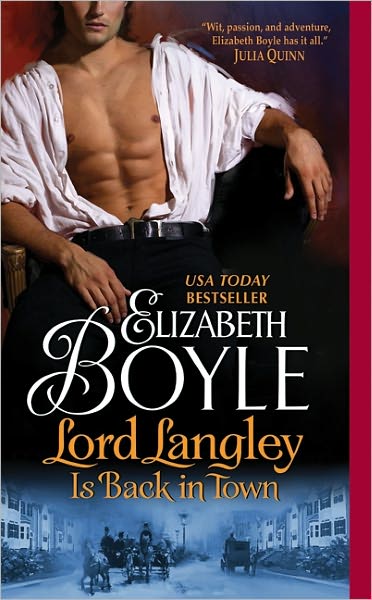 RT brings you an exclusive first look at Elizabeth Boyle's upcoming historical romance novel, Lord Langley is Back in Town. We go beyond the back cover blurb to find out what readers can expect from the latest in this author's Regency-era series.
***
Meet Lord Langley, my elusive hero of Lord Langley is Back in Town. Readers first "met" him in This Rake of Mine as the devil-may-care diplomat father of Felicity and Tally Langley. I say "met" because until now, Lord Langley has never set foot on the page, making him all that much more of an enigma.
 
But I couldn't shake the one known fact about Lord Langley: he's a seducer of the first order—a real lady killer--having claimed the hearts of duchesses and princesses and ladies from one side of Europe to the other. He needed a strong woman who could match him witty retort for witty retort, outwit him at every turn, and most of all, harbored just as many secrets as he did.
 
And then came Minerva Sterling, one of the Standon widows, and I realized I'd had the perfect heroine for him all along. This is one of the mysteries of writing—when you look at the page one day and realize you've unintentionally written the perfect heroine for your rake-in-waiting. Here was a woman with secrets—Big Secrets—and Langley is just the sort of man who could uncover them—since that's exactly what he's been doing for the Foreign Office all these years—seducing ladies to uncover secrets of state.
 
What I love about these two together—Langley and Minerva—is that outwardly they are so mismatched—the rakish rogue and the prim widow suddenly engaged for two very different reasons---but once you get to know them beyond those labels and they get to know each other, we as the readers and they as the lovers, discover how much they have to offer each other, and in turn, melt hearts as they fall in love and have to decide if their faux engagement could possibly be the marriage of true love they've both secretly longed to discover.
 
Of course the road to true love isn't going to be easy. Someone is trying to kill Langley—and having made enemies as easily as he'd taken lovers, this could mean a multitude of suspects, including his former mistresses, or as his daughters like to call them, The Nannies. And nearly all of these dangerous Continental sirens have arrived in London to corner Langley—each for her own reasons—which only adds to the chaos and challenges facing Minerva and Langley.
 
But then again, I knew that with Lord Langley is Back in Town, this story would be one grand Regency circus of madcap adventure, witty repartee and dangerous passions. Then again, I'm partial to those kind of stories. So I have to ask: What is your favorite type of Regency?

- Elizabeth Boyle

Ellizabeth Boyle's Lord Langley is Back in Town will hit shelves on May 31st, 2011. In the meantime, you can read an excerpt from Lord Langley is Back in Town at www.elizabethboyle.com.