Sneak Peek: Jacquie D'Alessandro's Summer at Seaside Cove
Wed, 03/23/2011 - 10:39am — admin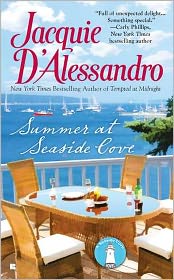 RT brings you an exclusive first look at Jacquie D'Alessandro's upcoming novel, Summer at Seaside Cove. We go beyond the back cover blurb for a special look at this contemporary romance, which the author explains is very different from anything else she has ever written. 
***
First, I'd like to thank RT for giving me the opportunity to give readers a Sneak Peek at my upcoming book, Summer at Seaside Cove. It's my first contemporary mainstream novel, and I'm so excited about it! All my previous contemporary stories have been either short, category length books or novellas that, because of their tight word count, have focused solely on the romance between the hero and heroine. While Summer at Seaside Cove is at its heart a romance, it's also a multi-generational story, exploring the intricacies and difficulties of the heroine's relationships with her mother, sister, and teenage niece. So, while it's a romance, there's also a lot more going on. I like to call it Romance--But More. 
 
The story takes place on the fictional North Carolina barrier island of Seaside Cove which is based on a combination of two of my favorite places—the south shore of Long Island (where I grew up), and the North Carolina coast where I love to visit. The beach has always been my "happy place." There is just something so soothing about the sound of the ocean, the scent of salt water, the feel of sand beneath my feet. 
 
When a book begins forming in my mind, it starts with either the hero or the heroine, and in the case of Summer at Seaside Cove, it was the heroine who "spoke" to me first. I could see Jamie Newman very clearly in my mind—a woman whose life has fallen apart. A woman who's been betrayed by her sister, and whose high-maintenance mother is driving her nuts. All she wants to do is escape—to a place where no one knows her, no one wants or expects anything from her. A place where she can re-evaluate, re-group, and re-assess. And what better place than the beach? Since she hasn't taken a vacation from her family's restaurant in three years, she's due time off and she intends to take it. When her online search reveals a summer-long rental available in Seaside Cove, she grabs it and takes off—little knowing how her life is about to drastically change. Or that it's impossible to escape her problems when her family starts showing up at the place that's supposed to be her sanctuary.
 
I also had a very clear idea in my mind as to what that "sanctuary" looked like—and it was nothing like the pristine, cozy beach cottage depicted on the internet photos. No, Jamie's summer rental turned out to be the cottage from hell, complete with a leaky roof, broken stairs, and an absent landlord. And that brought me to Jamie's landlord…a man who, when he finally showed up, turned out to be much more than Jamie had bargained for. A man who also escaped to Seaside Cove for reasons of his own. And maybe if Jamie's family would quit showing up on her doorstep, she might actually get to discover what those reasons are. 
 
Summer at Seaside Cove was both enjoyable and challenging to write. Unlike my historical books which all contain mysteries, there was no mystery to solve. And unlike my shorter contemporary stories, I had the word length to really delve deeply into my characters' emotions, as well as the time frame (an entire summer) for those characters to get to know each other and themselves.  I wanted to convey the full range of feelings involved with heartbreak, loss, betrayal, desire, love, and redemption. Jamie's summer in Seaside Cove changes her life, and it's a journey I hope readers will take with her and embrace.     

- Jacquie D'Alessandro

Jacquie D'Alessandro's contemporary romance Summer at Seaside Cove is scheduled to be released on May 3rd, 2011.