Sneak Peek: Jenna Black's Dark Descendant
Mon, 04/04/2011 - 3:07pm — admin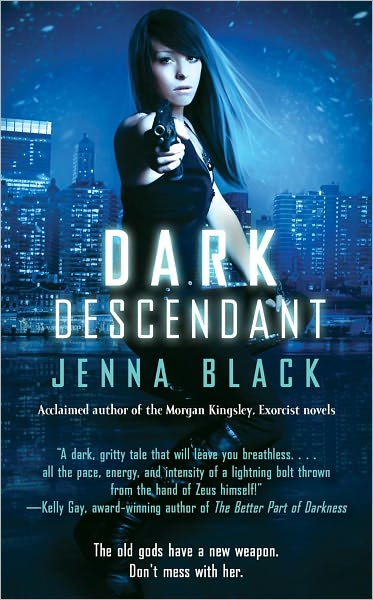 RT brings you an exclusive first look at Jenna Black's upcoming April novel, Dark Descendant. Black leaves behind her vampires and fae to start a new series about the children of mythic gods. Today we go beyond the back cover blurb to talk about how the author is leaving her own special mark on these gifted offspring.
***
The Joys of Cannibalism
My dream of being a published author took me a long time to achieve. Sixteen years, to be exact. During those sixteen years of collecting rejection letters, I wrote eighteen full novels and one incomplete one. It was the eighteenth novel that finally sold and launched my career as a published author.
When I tell people this story, they invariably ask me if I've subsequently sold any of my first seventeen books. The answer is no, because my writing has evolved too much since then for me to be happy with those older books. However, when it came time for me to start a new urban fantasy series, I decided to go back and cannibalize that one incomplete novel that was sitting in a drawer. (Figuratively—it was actually sitting on a hard drive, but let's not get technical.)
I chose not to go back and reread what I'd originally written, because I wasn't trying to finish the existing story or even rewrite it. I just wanted to take the kernel of the idea, the inspiration that excited me enough to start writing the book in the first place, and run with it. What was that idea? It was a contemporary world where there's a secret society of immortals whose immortality can be stolen by any of their descendants. I love the contrast between being immortal, and therefore practically invincible, and being vulnerable to one's own children, grandchildren, etc.
The mythology in the original manuscript was all make-believe, but for Dark Descendant I decided to tie it into something more familiar. My immortals—who are called the Liberi Deorum, which is Latin for Children of the Gods—are descended from ancient deities from a variety of pantheons. The original Liberi were the product of unions between gods and humans, and their divine parents gifted them with immortality, which made the Liberi believe they had become gods themselves. But the immortality was not hereditary, and it wasn't until they'd already had mortal children and grandchildren that the Liberi found out their offspring and descendants could kill them and steal their immortality.
Many mortal descendants of the original Liberi now walk the earth, blissfully ignorant of their heritage. My heroine, Nikki Glass, is one of them. She knows nothing about the Liberi and the secret world . . . Until she kills one of the Liberi in a car accident, inadvertently stealing his immortality. She then finds out she's descended from Artemis and discovers she's acquired a number of supernatural abilities. Abilities that two rival factions of Liberi are very anxious to take advantage of.
I've had a great deal of fun writing this series, because I get to play with mythology, which I love. In Dark Descendant, you'll meet descendants of the Norse trickster god, Loki, the Hindu death goddess, Kali, and the Germanic war god, Tyr, along with a number of descendants of the more familiar Greek pantheon. As is usual for me, I'm playing fast and loose with the mythology, using the traditional stories as a jumping off point for my imagination. The possibilities are endless and keep me excited about writing.
I still don't see myself publishing any of those old books. But considering how much fun I've had with the Descendant series so far, I might just have to start thinking about creative ways to revive some of them. In all that extra free time I have. Ha!
- Jenna Black
Jenna Black's Dark Descendant is scheduled to hit shelves on April 26th, 2011. For more titles to mark your calendar for, check out our Upcoming Releases page!