Sneak Peek: Kieran Kramer's Cloudy With A Chance Of Marriage
Wed, 03/02/2011 - 3:55pm — admin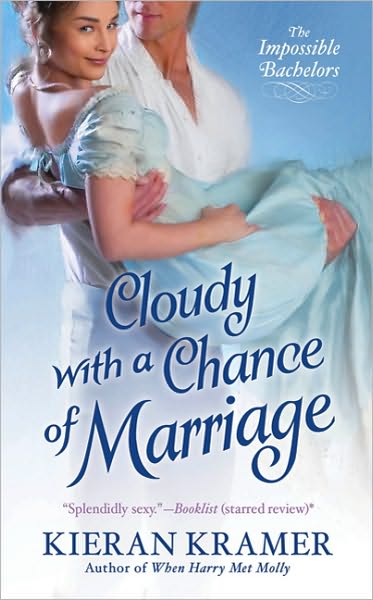 RT brings you an exclusive first look at Kieran Kramer's upcoming novel, Cloudy With a Chance of Marriage. Kramer debuted on the historical romance scene in November with two back-to-back RT Top Picks! No we go beyond the back cover blurb for this special look at her next Regency-set love story which will hit bookstores in April.
***
I'm a MacGyver sort of person <G>. Are you? 
I've got a few seasons on DVD. The whole family enjoys watching the hunky hero use whatever resource he has at his fingertips—matches, paper clips, string, duct tape, credit cards--to escape bad situations. His ability to find a way out of danger is so uncanny that it's made for some funny comic skits on Saturday Night Live.
But real-life situations in which we feel trapped don't feel funny at all. To believe that there's no way out…I can't think of a feeling that's worse. 
Now if you're a survivor—if you have that MacGyver mentality--you don't give in to that insidious voice in your head that tells you to give up. And we all know it doesn't only come from inside, from a lack of self-confidence or vision. Sometimes that horrible voice originates from outside, from other people who don't believe you have what it takes to solve the problem, alleviate the stress, or defuse the crisis in your life.
But if you dig deep down to that survival instinct that every single one of us has (MacGyver's not the only one who's clever and resourceful!), you'll make the choice to believe that it's always possible to save yourself. You simply need to think creatively. Be confident. And act.
To act—to take that step to get to a better place--is to be incredibly brave. 
I love brave people. They inspire me. Which is why I like writing stories with brave characters. It's fascinating to me to explore what happens when they move away from that place of fear—the "There's no way out" place, which is barren, cold, and dark—toward a better place filled with hope, love, and acceptance.
It's the happily-ever-after place we all crave, isn't it?
But let's get real: when you take a step forward, those self-doubts or people who don't believe in you don't just go away. Sometimes they get louder than ever. And new problems arise. 
That's a scary prospect. So does it mean you shouldn't even try?
Of course not. It means you don't quit. You keep your head up and be the Ninja and knock every obstacle out of your way. But more importantly, you keep your eye on all the good in your life that gives you strength. You count your blessings. 
You believe in love. 
In Cloudy With a Chance of Marriage, the third book in my "Impossible Bachelors" Regency-set historical series from St. Martin's Press, one thing I wanted to bring out in Jilly's personal story is the fact that she takes a big step toward solving her problem—which is a bad marriage--but the step she takes simply isn't enough. New problems arise in her life, even though her heart is in the right place and she's committed to the journey. 
It's only when she focuses on the love in her life—her love for her colorful neighbors and friends, her cozy home and stimulating work, the wildly sexy Captain Stephen Arrow, and for herself, the woman she must face in the looking glass each day--that Jilly finds the courage to get to the next level and grab her own happily-ever-after.
I hope you enjoy Jilly, Stephen, and their world as much as I enjoyed writing Cloudy With a Chance of Marriage. If you'd like to receive a quick email alert on the date of the book's release (April 26th), please feel free to join my private mailing list at www.kierankramerbooks.com. You can also always find me on Twitter or Facebook (www.facebook.com/KieranKramer). 
Finally, my awesome reader friends, I wish you all a MacGyver kind of day, not just today but every day!
Hugs,
- Kieran Kramer
Kieran Kramer's Cloudy With a Chance of Marriage will be released on April 26th, 2011.