Sneak Peek: Opal Carew's Total Abandon
Fri, 03/11/2011 - 1:06pm — admin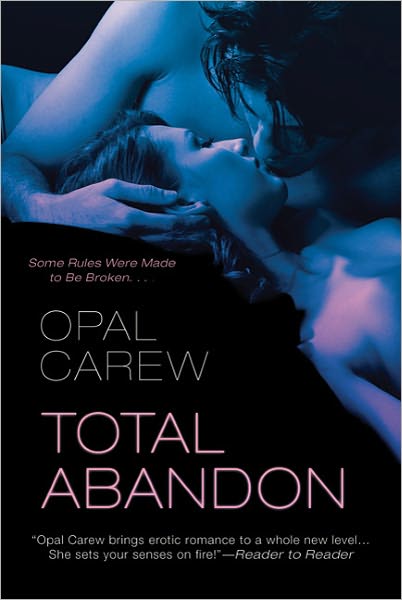 RT brings you an exclusive first look at Opal Carew's upcoming novel, Total Abandon. We go beyond the back cover blurb for this special look at Total Abandon, which will hit bookstores mid-April.
***
After her divorce Sandra swore off any involvement with men for a year. On the anniversary of Sandra's divorce, her friend, Aimee, suggests she make a list of sexy things she's never done, but would like to. After Sandra makes a few safe suggestions, Aimee cajoles her until Sandra opens up and pulls out her deeper, darker fantasies. Thus, The List is born.
Devlin is in love with Sandra, but knows she's not ready for a committed relationship yet, so he must allow her time to sow a few wild oats. He and Aimee hatch a plan to get Sandra to go away to a secluded hideaway for a weekend, complete with two gorgeous hunks, to make The List come true.
When Sandra finds her quiet weekend with Aimee includes two hunky guys, she balks, but Aimee suggests that she play out her "Sex with a stranger" fantasy. Intrigued, Sandra agrees and that evening, while blindfolded, has the most incredible sex of her life—with a stranger. She believes it's one of the two men, but it's actually Devlin, who couldn't ignore this opportunity to be with the woman he loves.
When Sandra returns home with her appetite for sexual excitement awakened, she pursues Devlin. But not wanting to be just friends with benefits, it's now Devlin's turn to balk. Return visits to the quiet cottage to spend time with her two hunks—and her fantasy stranger—only confuse Sandra more. Especially since she is experiencing something more intoxicating that's not on The List…falling in love.
But how could she be falling for a total stranger?
-Opal Carew
Opal Carew's erotic romance Total Abandon is scheduled to be released on April 12th, 2011.