Sneak Peek: Samantha James' The Sins of Viscount Sutherland
Wed, 04/20/2011 - 10:02am — admin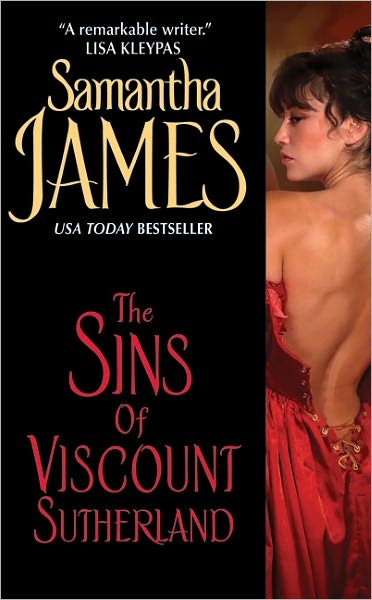 RT brings readers an exclusive first look at Samantha James' upcoming Regency romance. Get a special look at this new novel that puts a twist on the classic revenge tale as we go beyond the back cover blurb with the book's author!
***
The Sins of Viscount Sutherland is the first in my brand new series, the Lords of Sheffield Square. I, like so many readers, love those dark and sexy heroes. This book features such a man, Viscount Grayson Sutherland, who is (obviously!) a sinner, a rogue, a rake . . . on it goes. Yes, he's a bad boy. Yes, there's vengeance. Murder. Revenge. I think there's a classic appeal to this romantic theme, just as there is with the marriage-of-convenience, the kind of story that has an everlasting appeal. Because each story -- each hero and heroine- - is unique. They have a story of their own to tell.
When Gray came alive in my mind, I knew he'd be one of the darkest heroes I'd ever created. Gray is reckless and dangerous. His life had once been so perfect. But all that changed in the space of an instant. Fate had left him battered and embittered and forever lost. He has hardened his himself against everything and everyone.
There is more to the man than meets the eye – much more. He has denied his emotions and shut his heart to the world. But Gray soon discovers that Claire is the chink in his armor.
Claire has good reason to despise him. When her path crosses that of Gray Sutherland, it's no accident.  Gray is responsible for her brother's death. She'd kill him if she could. She can't challenge him to a duel, but she is determined to make him pay.
She is determined not to allow him to resist her. But Claire has only one weapon to use against him — her feminine wiles. Set on vindication, her plan is to make him fall for her, to wound him, then turn him away. And it works. He pursues Claire with single-minded intensity. Claire sees only the intense, wicked scoundrel responsible for her brother's death -- the face Gray presents to the world. She's shocked to realize it's just a façade. She knows nothing of his loss. Once she discovers his shattered past, she realizes that he is just as vulnerable as she is.
Claire doesn't want to fall for him. But the pain of loss is what brought them together. Can it bring them together? It's a rocky path for Gray and Claire. They don't have just hills to climb. They have mountains.
My goal is to entertain you, to make you laugh and cry. If you liked The Secret Passion of Simon Blackwell, I think you'll like The Sins of Viscount Sutherland. I hope you'll enjoy Claire and Gray's journey.
- Samantha James
Samantha James' The Sins of Viscount Sutherland will hit stores on May 31st. In the meantime for more books to mark your calendar for, check out our Upcoming Releases page!