Spoiled: Sherry Thomas On Ravishing The Heiress
Thu, 03/22/2012 - 11:58am — admin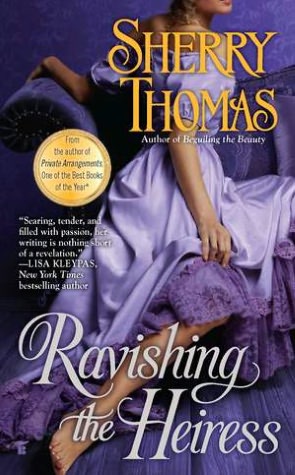 Spoiled shares a look at the books you can't wait to read, long before they hit stores. Today historical romance author Sherry Thomas gives RT readers a peek inside the second book in her new Fitzhugh trilogy, Ravishing the Heiress, before it releases in July.

Ravishing the Heiress is currently occupying the position of my personal favorite among the books I've written, so you can bet I jumped at the chance to talk about it.
We first meet Fitz and Millie, the hero and the heroine of Ravishing, in book 1 of the Fitzhugh trilogy, Beguiling the Beauty.  We learn fairly early on that theirs is a marriage of convenience. At age 19, Fitz unexpectedly inherited a title with a bankrupt estate and must marry an heiress in order to save the estate. But to do that, he had to give up Isabelle, the girl he loved passionately, who loved him just as passionately and who was perfectly suited to him in every way except for the fact that she wasn't an heiress.
We also learn in Beguiling the Beauty that although Fitz and Millie have been married for almost eight years, the marriage has never been consummated. They are very sweet toward each other. The friendship is genuine, but it is also what Millie uses to mask her true feelings for Fitz.
Toward the end of Beguiling the Beauty it is revealed that Isabelle, now a widow, was about to return to England and re-enter Fitz's life.
The opening of Ravishing the Heiress goes back in time to Fitz and Millie's first meeting as two teenagers. She has always known that she is but a cog in the great machinery of Marrying Well. Her entire upbringing has been about keeping her emotions under control so it is all the more staggering when she falls in love with Fitz at first sight, only to realize that he wants nothing to do with her, that the idea of selling his person in marriage completely revolts him.
Then she learns that he is actually in love with someone else. And that devastates her. She does not want him to come to her that way. To protect herself, she proposes to him that since neither of them wants children immediately, they should postpone any acts of procreation. A length of eight years is agreed upon and that is the basis on which they begin their marriage.
And this marriage defines both of them. Not in the sense that they derive their identity from or by it, but in the sense that it is the greatest challenge they have ever known, singly and together. For Fitz, his entire life has been derailed, at 19, he loses his beloved, is shackled to a crumbling estate and a stranger of a wife while his friends are having the time of their lives. He falls apart and has to find his footing, a new identity for himself, and a new calling in life.
And gradually, over the years, through shared trials and successes, they become friends, then good friends, then each other's closest confidants. That process is contrasted with the events of the present day, with Fitz and Millie consummating their marriage, and Fitz realizing at long last that what he'd once felt for Isabelle was now in the past, that Millie is no longer simply his wife, but the love of his life.
So yes, this is a marriage of convenience story, but it is also a coming-of-age story for both the protagonists, and a celebration of marriage — or any long-term committed relationship — that triumph over life's adversities and grows stronger with time.
I can't quite pinpoint what exactly inspired me to write this story. Perhaps it is a general observation on life, the fact that life is what happens when you are making other plans. That the most difficult moments of your life and the choices you make at those times are what define you. And that love, the kind of love that is a bedrock of strength, comes not just from that initial spark of attraction and isn't something to be had by sitting around, but is something you build with kindness and maintain with gratitude.
- Sherry Thomas
Want to learn more about Millie and Fitz? Mark your calendar, their romance will be in stores on July 3rd. And for other great tales of love in the past and present, be sure to check out our Everything Romance Page!