Spoiled: Susan Mallery On Her New Blackberry Island Series Starter Barefoot Season
Mon, 01/30/2012 - 12:00pm — admin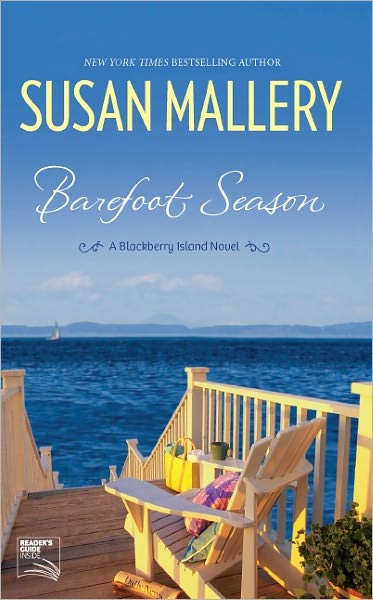 Spoiled shares a look at the books you can't wait to read, long before they hit stores. Today author Susan Mallery gives RT readers a peek inside her new Blackberry Island series before the series begins in April. Find out why her upcoming novel Barefoot Season was a story she simply had to tell — and what part of the book was inspired by a fan's photo!
***
Barefoot Season is what I like to call a "romance-plus." There are two love stories in the book — with terrific men I think readers will adore — plus a focus on the complicated friendship between the two heroines. I will always love writing romance. My mainstream books give me the added pleasure of exploring some of the other relationships that mean so much to women. We are complex creatures; romantic love is just one of the emotions that make up the tapestry of our lives.
The idea for Barefoot Season started with me asking, what if you and your best friend fell in love with the same man, and then he proposed to her? You can't stop loving him just because he's engaged to someone else, even if that someone else is your best friend. And what if you were convinced that you're the right woman for him? Could you walk away from him when he tells you he thinks he made a mistake?
Michelle and Carly grew up on Blackberry Island as close as sisters. The innocence of their friendship was destroyed when Michelle's dad ran off with Carly's mom. As young adults, the women began to make peace with each other… until they both fell in love with the same man. He proposed to Carly, then seduced Michelle — a fact Carly discovered in the most shocking way. Michelle, feeling a combination of guilt, pain, and humiliation, joined the Army to avoid facing what she'd done.
Ten years later, Michelle's mother has died, leaving Michelle with the inn where she grew up. She returns to Blackberry Island, wounded both physically and emotionally, hoping to find peace after years of war. What she finds instead is Carly living in the owner's suite at the inn with her young daughter, the daughter of the man at the center of their rift years ago. Circumstances force the former best friends to work together over one long summer to save the inn. Can they recover what they once had? And do they even want to try?
I love creating characters who are as multi-layered as people are in real life. When we're in conflict with each other, often each person is partially in the right and partially in the wrong. I enjoy digging into those nuances, discovering facets of the story along the way that make one change one's allegiance. I think book clubs will enjoy discussing Barefoot Season, and I've included a readers discussion guide at the end of the book to help get the conversation started.
Although the premise is emotional, the story is told with the humor readers have come expect from me. In fact, two of my favorite animal characters appear in this book. I believe in the healing power of animals, and I felt that by rescuing a dog, Michelle would rescue herself. It's hard to hate yourself when you're confronted with a dog's unconditional love.
A while back, I asked my Facebook fans to help me decide on a mix of breeds for a large dog to appear in Barefoot Season. One fan posted the most adorable picture of a dog lying down with a cat curled around his tail. So of course, I had to put him in the book… and the cat, too! Then I invited my Facebook fans to name the dog. They decided upon Chance. Chance and Mr. Whiskers will melt your hearts.
- Susan Mallery
Want to find out what happens to Chance, Mr. Whiskers and, of course, their human companions? Mark your calendar, Barefoot Season will be released on March 27, 2012. You can also take a look at more upcoming releases here!