Spoiled: WIN Alyson Noël's New YA Series Starter Fated — Before It Hits Stores In May!
Mon, 02/27/2012 - 11:14am — admin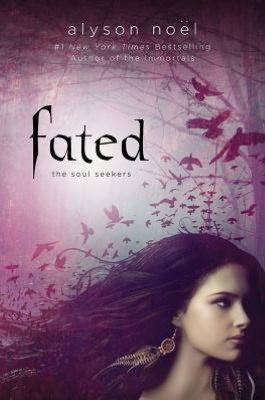 Spoiled shares a look at the books you can't wait to read, long before they hit stores. Today author Alyson Noël shares a look at her new Soul Seekers series starter, Fated, before the book hits stores in May. Find out what inspired the author to include elements of Shamanism in these new books. And then find out how you can win an Advance Reader Copy of Fated!
***
When The Immortals series ended with the publication of Everlasting last June, as much as I loved and missed Ever and Damen (and Jude, Miles, Haven, and Roman — even Drina!) I was eager to delve into a new supernatural world with a brand new cast of characters.
I'd engaged in quite a bit of research while building the world of The Immortals that included lots and lots of reading, a three-day "Psychic Development" seminar with world-famous medium, and best-selling author, James VanPraagh, and underwent several past life hypnosis sessions as well — and I couldn't help but notice how often mentions of Shamanism cropped up. Since I've always been intrigued by ancient myth, lore, and anything to do with metaphysics, I knew immediately that Shamanism was the next subject I wanted to explore in my writing.
From my first visit to New Mexico, many years ago, I fell in love with its rugged vistas, rich cultural mix, and mystical legends — and I knew it would provide the perfect backdrop for the world of The Soul Seekers, which takes place in the fictional town of Enchantment.
Once, the location was nailed, it was time for more research (yay!). Aside from reading numerous books on the subject, I took a three-day "Introduction to Shamanism" course that was so fascinating; many of my personal experiences found their way into the story. I also traveled to New Mexico to interview local teens about what it's like to grow up there, as well as a Native American about life on the reservation where he lives.
The world of The Soul Seekers is brimming with magick, mystery, and, yes — intoxicating romance! And I have to admit that when I first started writing Daire's journey, I was a little jealous of the life she lived — it's filled with just the kind of excitement and glamour I dreamed of as a kid.
Unlike The Immortals' Ever Bloom, Daire Santos is far more worldly and experienced. As the daughter of a Hollywood make-up artist, Daire's spent her entire life hopping the globe, moving from movie set to movie set. Getting lost in a Moroccan medina, getting kissed on the Pont Neuf in Paris by a young actor destined for the big time — it all seems so exciting on the surface, but after a lifetime of it, all Daire knows is that she's never attended a real school, never enjoyed a real home-cooked meal, never spent a holiday in a place where she could actually speak the language, and she's never stayed in any one place long enough to make a real friend.
But all of that changes on her sixteenth birthday when the visions and dreams that have plagued her in the past, return with a vengeance, and she is sent to live with the grandmother she has never met but who recognizes the signs as Daire's true calling as a Soul Seeker — one who can navigate between the worlds of the living and the dead.
There, on the dusty plains of Enchantment, New Mexico, Daire will make friends, fall madly in love, and confront an enemy so dark, she's not only forced to embrace her fate as a Seeker, along with the sacrifices that go with it, but also to discover if Dace, the boy from her dreams, is her one true love — her fated one — or if he is allied with the enemy she is destined to destroy.
I like to explore issues of love and trust in my books, and though the worlds of The Immortals and The Soul Seekers are so much broader, bearing much bigger stakes than the world that I live in, I think the themes continue to resonate with readers because falling in love is a beautiful and risky endeavor. Giving our heart to another makes us vulnerable. And while we may not be burdened with the worry that our intended is a six-hundred year old player who may, or may not, have our best interests at heart (hello, Damen!), or, in Daire's case, that the one we are fated for shares a biological link — and possibly more? — to the enemy she's destined to destroy — it's still a crap-shoot. There are no guarantees. In the end, all we can do is trust our gut, cross our fingers, and hope our love is reciprocated.
Every six months brings a new book in The Soul Seekers series, so be on the lookout for Echo, Mystic, and Horizon, in 2012/13!
I've had so much fun creating this world—I hope you enjoy reading it as much as I've enjoyed writing it!
Peace * Joy * Love,
- Alyson Noël
Want to learn more about the Soul Seekers world? Mark your calendar, Fated will be released on May 22, 2012. Or you can enter to win an ARC copy of the book now. You can also take a look at more upcoming releases here and find more great YA reads on our Everything Young Adult Page.
GIVEAWAY ALERT: Three lucky readers will each win their own Advance Reader Copy of Fated. To enter, leave a comment about a globetrotting adventure you would like to go on with Daire. Or email your comment here with the subject line "Alyson Noël Giveaway." The winners will be announced on March 13. US mailing addresses only please.
BLOG UPDATE 3/13: The winners are: Hayden Casey, savie and Cody Calahan.