Spotlight On The Traditional Amish Wedding
Thu, 06/21/2012 - 12:32pm — admin
June marks the beginning of the wedding season, but that word doesn't mean white silk, bouquets and veils for everyone. In today's multicultural world, people celebrate marriage festivities with very different components. Always interested in learning more about cultures and religion, we've asked three authors discuss the wedding traditions of an insular group of people — the Amish. Read on to get insight from Suzanne Woods Fisher, Tricia Goyer and and Beth Wiseman on how the Amish herald a new union.
***
WHAT DOES A GARDEN SAY ABOUT LOVE? WITH SUZANNE WOODS FISHER

Courtships among the Old Order Amish are very hush-hush. When a couple is "published" (code for when an engagement is announced in church), it often comes as a surprise to others. But for nosey types, like you and me, all we need to do is to keep an eye on a family's vegetable garden. If you happen to notice celery—a lot of celery! Four hundred stalks or more—chances are that love is in the air for the young lady in the household. 
Celery is a Lancaster County tradition for weddings. Why? Well, no one seems to know. I'm speculating here—but considering the frugality and practicality behind most German traditions, it probably has to do with cost and availability. Most Amish weddings take place on Tuesdays or Thursdays in November, after harvest. Celery is not only easy to grow, but plentiful in the autumn. 
Why so much celery? Some celery is used in a traditional Amish casserole, the entrée at every wedding dinner. This Amish casserole is a mixture of chicken and stuffing, with celery being a main ingredient in the stuffing. More celery will be used to make creamed celery, a standard side dish for the wedding dinner. Celery is also used to decorate the dinner tables in jars and vases. Who would think that such a simple and humble vegetable would serve such a role? 
Ceremony and Celebration
Amish weddings are a joy filled community affair. The guest list is inclusive, anywhere from two hundred to four hundred guests are invited. Friends and neighbors help the bride's family clean, cook, and loan their best china for the dinner, school is canceled for the day so that children can attend. 
An Amish wedding is a serious, predictable ceremony. The template doesn't vary much: same three hour service, same hymns, same kind of traditional meal afterward. The emphasis is on those sacred vows, given before God. A new family has begun. Marriage is for life; divorce is unthinkable.
Contrast an Amish wedding to a modern non-Amish wedding, which costs roughly $30,000, emphasizes the uniqueness of the bride and groom, and has a 50-50 chance at ending in divorce. 
Perhaps celery is much more than a tradition. Suddenly, it seems like a metaphor.
Suzanne Woods Fisher's latest release is The Keeper (Book 1 of Stoney Ridge Seasons from Revell). The Haven, the second installment in the series, will be in stores August 1, 2012.
***
AN AMISH WEDDING DRESS WITH TRICIA GOYER

I have a nineteen-year-old daughter and one of our favorite shows to watch is "Say Yes to the Dress." Some dresses are simple, some extravagant. All are expensive (the cheapest being $2,000). Some are REALLY expensive...the cost of a new luxury car. The majority of the dresses are white and all of them reflect the bride's personal style. Tears come when the bride puts on the dress and feels more herself—and the princess in her mind—than with any other.
Things are different in the Amish community. Blue is the typical color chosen for Amish brides—a variety of shades of blue...or sometimes purple. An Amish bride usually makes her own dress, and it's similar to the dresses she wears every other day of the year. The dresses of her two attendants known as newehockers (Pennsylvania Dutch for sidesitters), are often made from the same cloth of fabric. 
All three dresses are plain and mid-calf length. There is no beading, no sweetheart neckline, and no train. We all know that for us Englischers the thought of wearing our wedding dress more than once would be crazy...yet an Amish bride wears her "wedding dress" as a nice church dress after she is married. Many times she is also buried in that dress when she dies. Or buried in the cape and apron she wore on her wedding day. There is no veil either. Often the young woman wears a black kapp to differentiate from the white one she wears daily. There is also no bouquet—the beauty reflecting from her smile is her only adornment. And her groom sees her as a beautiful bride indeed.
Tricia Goyer's latest Amish release is Beyond Hope's Valley (April 2012, B&H Books). The Memory Jar (Book One in the Seven Brides for Seven Bachelors series from Zondervan) will be available in October.
***
DO AMISH WEDDINGS INCLUDE A CAKE? WITH BETH WISEMAN
Don't expect to see a three or four-tiered, decorated wedding cake at an Old Order Amish wedding—or a groom's cake, for that matter. However, there is an abundant offering of eatable goodies for the bride and groom in lieu of our English tradition. 
Following the wedding ceremony in the bride's home, the new couple will take their place at the eck (tables that form an 'L' in the corner of the room), along with their family and attendants. After the meal, guests will present the bride and groom with various gifts, mostly food. This might be a single cake, perhaps a favorite of the groom's. Or it could be a lovely decorative container filled with cookies, maybe the bride's favorite.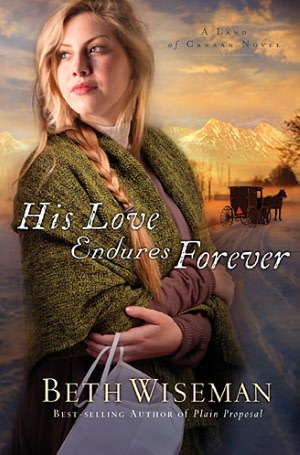 But the best part of this tradition is the special meanings behind the various gifts.  There is often a private inscription on a cake, something that is only known to the bride and/or groom and the person presenting the gift. Or it might be a card, or something else that is personal between the guest and the new couple. For example, if the groom's buddy watched him fall off the roof when they were young, the cake might have an inscription that says, "Watch Your Step." If the bride's best friend knows that the bride can't sew very good, she might teasingly inscribe, "One stitch at a time…" 
Whatever the gifts might be, they are given to the bride and groom as a token of love and remembrance of some special event or knowledge that they share.     
What about Amish Wedding Showers?
While the Amish don't refer to such gatherings as 'showers', there is always a party for the bride-to-be. In Paradise (Lancaster County), these parties are usually either a Tupperware or home interior party. The hostess invites friends and family of the new couple, and all the points that the hostess earns via sales at the party, she then gives to the bride to make selections. Guests will often buy additional gifts for the couple. 
This is a highly anticipated event that sometimes will occur during a Sister's Day, which is a monthly gathering for the women in the district. Sometimes, the ladies will bake, quilt, or can fruits and vegetables on Sister's Day. Or, they might tend to a neighbor in need or clean house for someone who isn't able. But when a wedding comes around, the bride knows she will be the guest of honor for a special party; one where she can load up on items for her new home.          
Beth Wiseman's His Love Endures Forever (Land of Canaan series from Thomas Nelson) will be releasing in October.
For more faith-inspired romance, Amish or otherwise, head over to our Everything Inspirational Page.