The Story So Far ... Debra Webb's Faces of Evil — with Giveaway!
Thu, 09/12/2013 - 11:12am — admin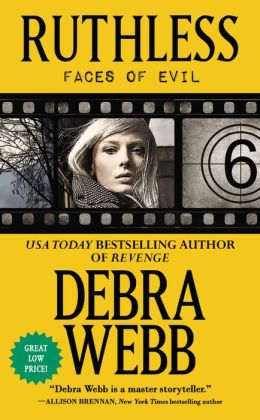 Series are the name of the game in publishing these days, but what happens when you discover an amazing series … on book four? Or nine? Or 18? Where do you start? Do you need to head all the way back to book one, or do things really heat up in book three?
We at RT understand this conundrum. So today we're debuting our feature "The Story So Far … " where we catch you up on a series' happenings and give you the scoop on each title — straight from the author and RT's crackpot staff of reviewers!
This month we've got Debra Webb's Faces of Evil, a romantic suspense series. Started as a self-publishing venture by the veteran author, the series became a hit, and was soon picked up by Forever for print publication. This month, book six of a planned 12, Ruthless, hit stands, and received an 4-1/2 star review from RT. And if we pique your interest, see details at the end of this post for our series set giveaway!
1. Obsession
In Obsession, we meet special agent Jess Harris. She broke the rules on a serial killer case, and she lost everything. So Jess jumps at the chance to help out on a missing persons case in Birmingham, Alabama. Even though she'd never planned on going home again. Even though the love of her life still lives there — and it's his case. Even though that serial killer hasn't forgotten about her. Webb tells us, "Obsession can be far more evil than you suspect. My goal was to bring a fresh and chilling face to this first level of evil."
2. Impulse
The serial killer who cost Jess her career at the FBI, The Player, still hasn't forgotten her. He's after Jess, and he's not giving up. Jess's first love, Chief of Police Dan Burnett, wants her to stay in town. But Jess worries she might be endangering everyone she loves if she does. Webb tells us of writing the second Faces of Evil title, "Serial killers are a major element in many mystery and suspense novels. Making Eric Spears stand out from the crowd was the challenge."
3. Power
RT reviewer Pat Cooper calls this third installment, "a hard-to-put-down police procedural with pitch-perfect voice and well-developed characters." As Jess settles into her new job as head of Birmingham's special crimes unit, she's got to deal with gangs, a dead ballet teacher, Eric Spears and a missing teen — all with Dan Burnett as her boss. Webb tells us, "I wanted the motive for murder to evolve from a love so powerful it overwhelmed all else."
4. Rage
"Rage is a powerful emotion," Webb tells us. "It can cause you to do things you didn't mean to do. Just how far would you go to cover up that mistake?" Jess is going to find out as she's called to the scene of a brutally murdered cop's wife. With the only potential witness an autistic boy, Jess has her hands full — and that's without Eric Spears and her ex-husband to deal with. "With a penchant for action, and a keenly sharp intelligence, heroine Jess is charmingly vulnerable under her tough-cop exterior," says RT reviewer Pat.
5. Revenge
We look to the past in Ruthless. Reviewer Pat says, "Webb's series just keeps getting better and more intense, as she keeps revealing more facets of protagonist Jess Harris' past." Making a decade-old suicide at a high school party relevant to the current crimes plaguing Jess wasn't easy. Webb tells us, "As I wrote Revenge, I had a number of challenges. The offending event took place many years back, how did I bring it to the present in an organic manner? What was the catalyst after so many years?"
6. Ruthless
"The series and characters take a major turn in this book," Webb tells us, as Jess must again deal with The Player, the child-snatching serial killer The Man in the Moon — and a pregnancy scare. It works, according to reviewer Pat, "Webb twists parallel storylines together into a more than satisfying climax." It was hard work for Webb, who tells us, "The most difficult part for me was tying it all together in a way that evoked the emotions every single character was feeling at this stage in the series arc."
If you're officially hooked and want to start with book one, we have you covered! Comment below on your favorite series for a chance to win a Faces of Evil series set. (U.S. residents only.) Ruthless is on sale in stores and online now. And for more romantic suspense book news, be sure to visit our Everything Romance page.
UPDATE: The winner is Taurus