The Story So Far ... Larissa Ione on The Lords of Deliverance
Tue, 12/17/2013 - 11:26am — admin
Whether you're all set for the holidays or scrambling to keep up (and, seriously, don't talk to us if you're done with everything), there's always time for a reading break! Today we've got a series primer on Larissa Ione's Lords of Deliverance series. A spin-off of her Demonica series, these five books star the four horsemen of the apocalypse, and today, the long-awaited Reaver gets his tale — and it's an RT Top Pick! and Reviewer's Choice Award nominee. We wanted to get caught up, and Larissa was kind enough to provide a primer.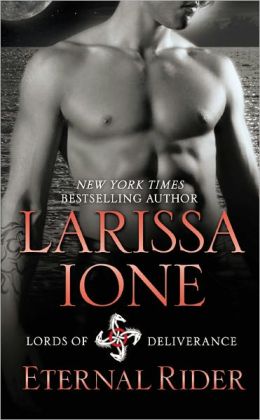 The first book of the Lords of Deliverance series picks up where the 5th book in the Demonica series, Sin Undone, left off. We meet the Four Horsemen of the Apocalypse and learn that the first Horseman, Reseph, has become the evil being known as Pestilence after the breaking of his Seal. Now the second Horseman, Ares, also known as War, must fight to keep his own Seal from breaking — or the Apocalypse will destroy the Earth.
What I loved about this book was digging into a new set of characters within the Demonica world. I'd been wanting to write about the Four Horsemen for years, and their stories fit into the Demonica series so well! Besides introducing the new characters of Ares, Limos, Thanatos, Reseph, and Harvester, I got to keep the major Demonica characters in play. Best of both worlds!
Limos, the third Horseman of the Apocalypse, has a lot of secrets that threaten to destroy not only her life, but that of those she loves. Making matters worse, humans and demons alike are plotting against the Horsemen, and soon it's clear that no one can be trusted.
I loved writing this book! The hero, Arik, had been a fun favorite of mine since his appearance in Desire Unchained, Demonica book two. The ongoing Demonica and Lords of Deliverance plots really start to get going here, and things are getting intense!
3. Lethal Rider
Thanatos, also known as Death, had his virginity stolen from him in Immortal Rider. The human woman responsible is now pregnant — with a baby destined to either kick off the end of the world, or to save it. But with Pestilence working to break his siblings' Seals, no one is safe, least of all the innocent unborn child.
This was the darkest and most tragic of the Lords of Deliverance books. It is one of my favorite books of this series, but it was really hard to write. We have a pregnant heroine desperate to make amends, and a very angry Horseman bent on revenge. Not only were the hero and heroine's emotions tricky, but I had to weave in all the outside plots about the Apocalypse, betrayals and revelations into an already packed story. But I think it came together really well.
4. Rogue Rider
At the end of Lethal Rider, Pestilence was destroyed and the Apocalypse averted. But what no one knows is that Reseph survived, and Reaver has wiped his memories and sent him into the human realm to recover and, perhaps, save his soul.
Reseph's story was different from any other book I'd written in the Demonica and Lords of Deliverance series. In the first half, the hero has amnesia, and the woman who rescues him, Jillian, is stuck with him in the middle of a snowstorm. This allowed them to get to know each other slowly, to fall in love before he gets his memory back and it all hits the fan. It wasn't an easy book to write, but I think it's the one I loved writing the most.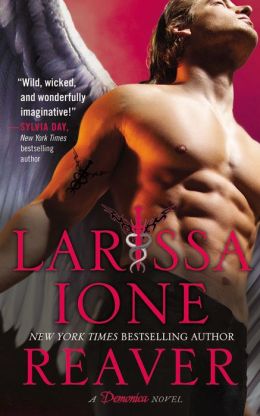 5. Reaver
The Apocalypse has been averted, the Four Horsemen are happy, and Reaver has learned that Reseph, Limos, Ares and Thanatos are family. But Reaver, whose memory was taken from him twice in the last five thousand years, feels a hole in his heart. Harvester, the fallen angel who he believed had worked against the Horsemen, was a spy for Heaven the entire time. Her traitorous actions against her father, Satan, have earned her eternal torment. Now Reaver must defy the archangels themselves to rescue Harvester from the bowels of hell, but doing so could cost him more than his wings; it could plunge Heaven and Hell into a war that would destroy everything he holds dear.
Oh, boy. This was, hands down, the most difficult book I've ever written. There was so much history between Harvester and Reaver to uncover, but because Reaver didn't remember his past and Harvester didn't remember who he used to be, it was a challenge to keep things straight for the readers. In addition, this is really book 10 in the Demonica series, so the history of the nine books before it is all relevant. Eek! But that's not to say I didn't enjoy it at times! The most fun part of this book was writing the setting, because I finally got to take the reader to Sheoul and show parts of the Demonica/Lords of Deliverance world they'd never seen before. And the revelations that spill off the pages are huge. I hope Reaver meets everyone's expectations!
Reaver is out now, if you'd like to give it a try! And for more paranormal stories, be sure to visit our Everything Paranormal page!